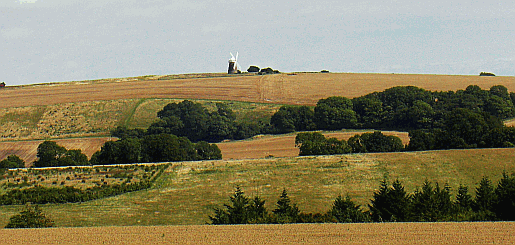 Halnaker, West Sussex
Halnaker, a mile or so along the old
Roman Road of Stane Street
east of Chichester, is best known for its lovely windmill.
Halnaker Mill was built for the Goodwood Estate in the middle of the 19th century on top of Halnaker Hill - you can see the mill from the A27 as you drive eastwards from Chichester.
The windmill, which is 127 metres above sea level, has a commanding view of the Sussex coastal plain, but is very easy to walk up to from the A285 road. Halnaker Mill has had a slightly chequered history, being derelict for much of its quarter millennium of existence.
Currently the mill is in good shape externally, but inside there is nothing more than a hollow reminder of how things might have been in its heyday
Where to stay near Halnaker
HALNAKER INFORMATION
The Anglesey is a well-kept village pub with a large open fire, a good selection of real ales and good food. The pub is popular with Halnaker and
Boxgrove villagers
, but also well-patronised by upmarket visitors to Goodwood Races.
Just along the road in Strettington in the Temple Bar Business Park, Halnaker Stoves specialise in the installation of stoves and range cookers powered by all sorts of different fuels.
A good place to stay if you are visiting Halnaker for Goodwood Races or one of the big motor racing events at Goodwood Racetrack like the
Revival Meeting
.
PLACES NEARBY
SUSSEX INFO