Sculpture in West Sussex
Cass Sculpture Foundation
The Cass Sculpture Foundation, among its several activities, runs one of the most important open air sculpture parks in Europe.
Previously known as Sculpture at Goodwood, the Cass Foundation has commissioned over 160 major pieces from leading British Sculptors. Many of these are on display in lovely peaceful wooded grounds about a mile to the east of Goodwood House. It's a great way to spend, perhaps, two hours.
In addition to a permanent collection (all of which are for sale, incidentally, although they will set you back a small fortune) new works and exhibitions are added each season.
Hannah Stewart Sculpture
Hannah Stewart sculpts fine art bronzes and plasters.
Log Jam
Log Jam features the work of sculptor and tree surgeon Joc Hare, who combines both sets of skills to fine effect.
Look out for the indoor works, especially those containing wafer thin slivers of timber.
Sussex Sculpture Studios
An Open Access sculpture studio, who bravely maintain that anyone regardless of experience or talent can be taught sculpture.
Uckfield Sculptures
A great idea. This is a website all about the public sculptures in Uckfield.
The site even solicits your views on which sculptures should find a permanent home in Uckfield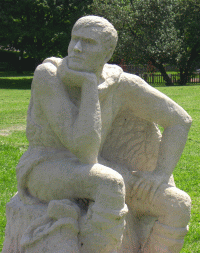 WEST SUSSEX TOWNS
STAY INFORMED