Littlehampton
After years of gentle decline,
Littlehampton
is reaping the benefit of some much needed redevelopment. Like many of the West Sussex seaside towns, Littlehampton has not yet completely shaken off the air of faded gentility, but this has its appealing side too.
Littlehampton has a relaxed, unhurried atmosphere, good beaches and plenty of things to do.
Littlehampton history in 30 seconds
Littlehampton first came to prominence as a south coast port after the Norman invasion, although there had been a port here from at least Roman times.
Roger de Montgomery was given the testing task of ruling much of West Sussex by William the Conqueror. Although he chose Arundel as the site for his HQ and the sea port of Littlehampton worked hand in hand with the safer river port of Arundel just a few miles upstream.
In Victorian times, particularly with the arrival of the railway in 1863, Littlehampton grew into a seaside holiday town, albeit on a smaller scale than Brighton, Worthing or Bognor.
After a relative decline brought on by the availability of cheap European package holidays, Littlehampton is now succeeding in re-establishing its identity as an attractive town in a fine location on the Sussex Coast.
What's on in Littlehampton
Find out what's on in and around Littlehampton and the rest of West Sussex.
Comedy, gigs and music, classical and orchestral music, sculpture and art and musicals and other plays at thetheatre.
Littlehampton Attractions
While a lot of Littlehampton still has a slightly faded feel, it's definitely worth visiting.
Well-established attractions in Littlehampton include the Look and Sea Visitor Centre, the high point (literally) of which is the viewing tower, which gives great views across Littlehampton and towards the sea and the South Downs. Littlehampton Marina and River Arun are very attractive too. You can take a river cruise up the Arun or charter a boat out into the English Channel for fishing, or simply watch boats coming and going in Littlehampton Harbour.
Harbour Park is a popular Amusement Park with both indoor and outdoor attractions, including a Ocean roller coaster.
Littlehampton beach, while made of sand and shingle like nearly all the Sussex beaches, is good for a walk, with great views of the gentle curve of the Sussex coast. Check out the East Beach Cafe, a weird shaped seafront building which divides opinion sharply. The East Beach is more popular with Littlehampton holidaymakers, while West Beach is quiet and is a local nature reserve.
Another Littlehampton curiosity is The Longest Bench - part bench, part piece of modern art - which stretches for an amazing 324 metres along the seafront, winding in and out, up and down. The Longest Bench was installed in 2010 and it certainly makes the seafront at Littlehampton unlike any other in Sussex.
Littlehampton Museum is based in the centre of town in Manor House and regularly refreshes its exhibits and is worth a trip.
The annual carnival in July and Christmas Fun Day are worth looking out for. The shops in Littlehampton may not offer the variety and interest of Brighton or even Chichester, but central Littlehampton's shopping district has a full range of national retailers with some local colour thrown in for good measure.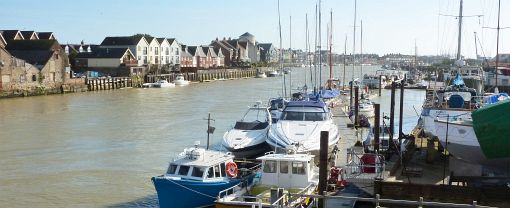 Things to do in Littlehampton
See our listings of
things to do in Littlehampton
from boat charter, local charities and clubs to join.
Littlehampton sports clubs
Details of all the
sports clubs in Littlehampton
including Littlehampton Golf Club.
Where to stay in Littlehampton
If you're looking for hotel accommodation in Littlehampton, why not check out our
guide to the best hotels in Littlehampton and the surrounding area
.
If you don't fancy an hotel, we've also selected some good bed and breakfast accommodation in Littlehampton to help with your hotel search.
Places to visit near Littlehampton
Littlehampton's prosperity is largely the result of its position at the head of the
River Arun
and following the route of the river inland reveals plenty of interesting places.
The town of Arundel itself is a spectacular, small and historic town, with plenty of attractions - Arundel Castle, the Wetlands Trust Nature Reserve bird sanctuary and its arts festival to name just three.
The opposite side of the Arun valley is particularly lovely, with walks in the summer from Burpham through to Houghton Bridge and South Stoke along the winding river being special.
Amberley is a particularly lovely village a few miles further up the Arun Valley to the north of Arundel.
North of Littlehampton, Parham House and Gardens near Storrington is a beautiful 16th century stately home which is open in the summer.
Littlehampton is also handily placed for trips into Brighton, with regular rail and bus services. London is around 2 hours away by rail.
Horse racing at Glorious Goodwood and Fontwell Park Racecourse are also within easy reach.
Towns near Littlehampton
Arundel
Arundel's twin port on the River Arun, with its castle, cathedral and artistic outlook
Bognor Regis
Littlehampton's large seaside neighbour to the west
Chichester
Cathedral city with theatres, galleries and a distinguished Roman and Georgian heritage
Steyning
Charming and slightly sleepy former river port with a great Festival each year
Worthing
Just the other side of the Ferring strategic gap to the east of Littlehampton
RELATED PAGES
WEST SUSSEX TOWNS
SUSSEX INFO