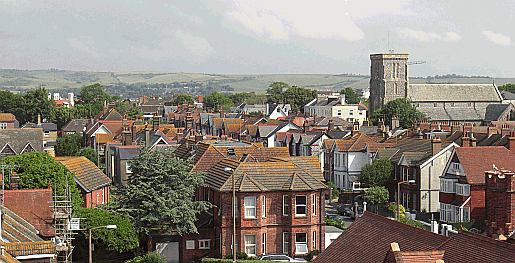 Worthing in West Sussex
Worthing is more or less the largest town in West Sussex, with a population of around 100,000.
It wasn't always thus. Throughout the middle ages Worthing was a
tiny
fishing village. At the time
the Normans marched into Sussex
its population was less than one hundred and by the end of the middle ages this was around two thousand people.
WORTHING ENTERTAINMENT
Find out what's on in Worthing with our Entertainment Guide.
Where to stay in Worthing
With such a strong tourism industry, there's a huge choice of hotel accommodation in Worthing. If you're looking for somewhere to stay in Worthing, why not check out our guide to the best Worthing hotels.
And lots of people enjoy staying near the Worthing seafront in one of Worthing's many fine guest houses.
If you prefer a Worthing seaside B&B, we've also picked out some good bed and breakfasts in Worthing to help you find a good place to stay while visiting Worthing.
Worthing had no significant harbour or river to catalyse its economic development, although it did have one or two useable inlets and was fairly handy for
smugglers
. These inlets, like the Teville stream and Sompting Brook, are virtually unnoticed today. They have been culverted, drained and built over.
Worthing's success was built on pleasure and it really only started to grow at any notable rate in the from the 1750s onwards when London society started to show an interest in the therapeutic effects of sea bathing and imaginative developers started to invest in what was then little more than a large village.
It's fair to say that the developers' vision was realised, but it seemed that what they needed to make Worthing a success was a bit of celebrity endorsement.
In time they got their celebrity - royalty, no less.
Society's interest in this part of the Sussex coast was catalysed by the decision to send Princess Amelia to Worthing for a spot of sea bathing to help her get over tuberculosis in 1798. Brighton was considered too racy for the teenage princess (daughter of King George III), but Worthing was settled on as a suitably refined place to recuperate. The town never looked back from this moment, eventually growing to take in all the surrounding villages of Heene, Broadwater, Sompting, West Tarring, Goring, Salvington and Durrington.
Worthing is now a near solid sprawl of development, from its beachfront properties nearly all the way inland to the A27, with only the attractive gap at Ferring Gorse providing much in the way of countryside reaching down to the sea. To the east, Worthing is now as good as joined to Lancing. Driving along the A259 you probably wouldn't notice the gap between the two towns. Inland the gap is a bit bigger.
But it's no wonder that Sunny Worthing has proved such a popular place to live, sandwiched, as it is, in a three mile deep plain between the South Downs and the English Channel. Worthing still does well out of tourism and many of the town's attractions, like its theatres seem a throwback to the heyday of the seaside holiday.
Worthing has a large central shopping area with a good range of independent retailers on its fringes.
If Brighton is lively and slightly dangerous, Worthing is more genteel. Worthing's reputation as a town with an elderly population had been justified until recently, but 100 years ago the borough elders were marketing Worthing as a great place for young families with children to visit or live in.
In addition to tourism and retirement, the financial services industry has a prominent place in the town's economy nowadays, although this makes Worthing vulnerable to job losses at the moment.
Map of the Worthing area
WHERE TO STAY IN WORTHING
MORE ABOUT WORTHING
WEST SUSSEX TOWNS
SUSSEX INFO