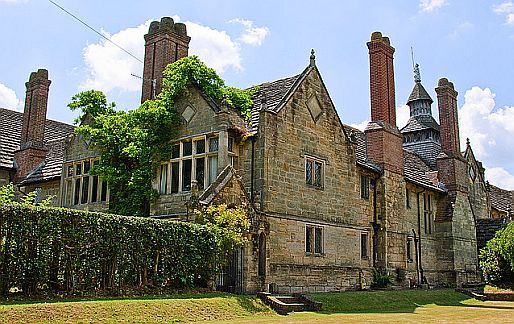 East Grinstead
East Grinstead
has been an important market town since the early middle ages. It was granted its market charter in 1247, although East Grinstead market was already up and running by then. Later East Grinstead became a centre for the
iron trade
which was so prevalent throughout the Weald.
Today East Grinstead is one of the wealthiest towns in Sussex, with many of its residents commuting to London to work.
The town has grown greatly over the last century but there are still some old buildings to be seen.
The High Street is attractive and has plenty of 14th century based buildings, although nearly all have been subsequently altered. This part of East Grinstead is a designated Conservation Area and contains the Old St Margaret's Convent, which has a Grade I status, but which has been converted into housing.
Sackville College almshouses were founded in 1609 by the Earl of Dorset. The building, which is grade 1 listed, is still in use as an almshouse and is still supported by the the Earl's descendants. The College is open during the summer months from June to September and is worth a visit.
St Swithin's Church was rebuilt from scratch in the late 18th century after the previous church's tower collapsed. The church contains the graves of three protestant martyrs who were gruesomely burned alive at the stake in 1556.
East Grinstead has a particularly good museum based in a purpose built building on the site of the town's former cattle market.
East Grinstead's Brave Guinea Pigs
The town is famous as a centre of pioneering plastic surgery.
Much of this work was stimulated by the burns suffered by airmen during World War II as the Battle of Britain raged over the Sussex skies.
Sir Archibald McIndoe, born in New Zealand and trained in the USA, set up the Centre for Plastic and Jaw Surgery at Queen Victoria Hospital in East Grinstead.
Many of the emergency procedures and rehabilitation techniques trialled by his team and Guinea Pig Club of patients formed the basis of modern plastic surgery in the UK.
East Grinstead Attractions
Nearby attraction include
Standen
, a grand Victorian house packed with items relating to the Arts & Crafts Movement of the 1920s.
The much loved Bluebell Line restored steam railway runs through the countryside to the south of East Grinstead, skirting the lovely countryside between West Sussex and the neighbouring county of East Sussex.
The nearby Saint Hill Manor is an important base for Scientologists. The Manor House was restored by L Ron Hubbard, the founder of the Church of Scientology.
Hammerwood Park is a spectacular restored Grade 1 listed mansion with celebrity connections and an interesting story - and it is open to the public in the summer.
Weir Wood Reservoir a mile south of East Grinstead, is a very popular place with walkers, anglers and sailors.
Ashdown Forest lies to the south of the town and the High Weald Area of Outstanding Natural Beauty is on East Grinstead's doorstep.
Walkers and cyclists can take advantage of the Worth Way (East Grinstead to Three Bridges) and Forest Way (East Grinstead to Groombridge) cycle routes which run along railway lines disused since the 1960s and which are managed as so-called "linear" nature reserves.
What's on in East Grinstead
Find out what's on in and around East Grinstead and the rest of West Sussex.
Comedy, modern music, classical music, dance, sculpture and art and the theatre.
Things to do in East Grinstead
As befits such a large town, there are plenty of
things to do in East Grinstead
.
Our listings include clubs and societies to join in EG and information on where to take part in hobbies and other pastimes.
East Grinstead sports clubs
There are many high quality
sports clubs in East Grinstead
. We have their details for you
Where to stay in East Grinstead
If you're looking for somewhere to stay in East Grinstead, why not check out our
guide to the best East Grinstead hotels
.
If you prefer a B and B, we've also picked out some good places for bed and breakfast in East Grinstead to help you find a good place to stay while visiting East Grinstead.
Places to visit near East Grinstead
Horsted Keynes
RELATED PAGES
WEST SUSSEX TOWNS
PHOTO
SUSSEX INFO