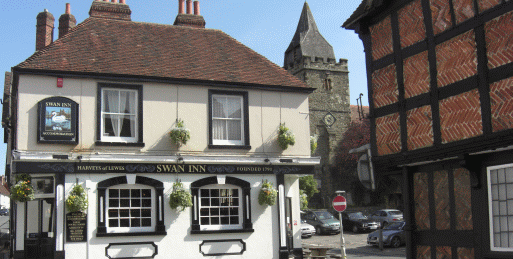 Midhurst
Midhurst is prosperous and attractive town at the western end of the Sussex Weald half way between the coast and the Surrey border.
Midhurst Tourist information
Midhurst has several good hotels including the well-known Angel and Spread Eagle and a good selection of restaurants and pubs.
Public transport around Midhurst is limited and a car is recommended for visiting most attractions outside the Midhurst. There are regular buses along all major routes, but no railway station.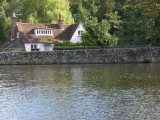 Midhurst's tourist information office is located alongside the bus station off North Street and is well stocked with leaflets and brochures to help you around.
All the same, there is plenty to see and do in and around Midhurst and the countryside around the town is extremely beautiful.
The Rother Valley and the nearby South Downs offer countless opportunities to find peace and quiet and wonderful countryside.
Midhurst has wide streets with a good sense of space, striking buildings, unusual shops and an interesting history.
The town is closely associated with the Cowdray Estate, famous for the ruins of Cowdray House and these days for polo's Veuve Cliquot Gold Cup, which injects excitement into midsummer each year and brings many well-heeled visitors to Midhurst.
What's on in Midhurst
Find out what's on in and around Midhurst and the rest of West Sussex.
Comedy, music, classical music, dance, art and what's on at the theatre.
Midhurst Attractions
Midhurst's main shopping strip of
North Street
is very attractive, despite being the principal traffic route through the town. And the area around Red Lion Hill, Church Street, Wool Lane and Duck Lane is even lovelier with a really good mix of special and unusual buildings, especially around the Church.
St Ann's Hill was the site of Midhurst's Castle from Norman times until the middle ages.
The Castle was built overlooking the River Rother and a short walk up the hill gives the opportunity to see what's left of the castle earthworks and imagine what Midhurst might have been like a thousand years ago as a small military town.
Many of Midhurst's attractions are connected with the Cowdray Estate.
The ruins of Cowdray House, largely destroyed by a fire in 1793, are highly evocative of Tudor times. It's possible to visit the gatehouse and restored kitchens, as well as gazing at the impressive ruins themselves.
The Walled Garden at Cowdray is very attractive and worth a visit.
The Cowdray polo season injects a buzz into Midhurst life each summer and makes Midhurst a good place to be around at that time.
Things to do in Midhurst
See our listings of
things to do in Midhurst
Midhurst sports clubs
Details of all the
Midhurst Sports clubs
including golf, polo and clay pigeon shooting at Cowdray Park, the Grange Centre and the rugby and cricket clubs.
Where to stay in Midhurst
There are some
fine hotels in Midhurst
and a whole host of
stylish bed and breakfast places around Midhurst
too.
Places to visit near Midhurst
Midhurst is only a short distance from many of the most interesting places in West Sussex.
To the south lie Chichester Cathedral and the sailing and wildlife opportunities presented by Chichester Harbour.
En route to Chichester, the Weald and Downland Museum at Singleton and its neighbour West Dean College and Gardens are two uplifting and interesting places with a busy programme of events, especially in the summer.
Just east of Chichester, the ruins of Boxgrove Priory, and Tangmere Military Museum are well worth visiting.
Goodwood, with its motor racing, stately home and racecourse is nearby. Fontwell Racecourse is a little further to the south east.
Chichester Harbour is only 10 miles away from Midhurst. Even for those who don't enjoy sailing, pretty villages like Bosham and the bird sanctuary in the Harbour can be very enjoyable.
To the west of Midhurst, Harting Down Nature Reserve gives terrific views to the north and a great feeling of being able to wander wherever you want to go. South Harting is worth a visit too.
Worth a visit - towns near Midhurst
The main city near Midhurst is
Chichester - the county town of West Sussex
- a major tourist attraction with its cathedral, cultural highlights like Pallant House Gallery and Chichester Festival Theatre and a plethora of historic buildings. There are plenty of good shops in Chichester too.
Petworth is just a few miles along the A272 from Midhurst and highlights include high class antique shopping and the National Trust-run Petworth House and Gardens.
Slightly further away from Midhurst, Arundel is a lovely small town only slightly bigger than Midhurst, with an impressive Castle, a lovely setting overlooking the River Arun and a fine reputation for the arts.
AROUND MIDHURST
WEST SUSSEX TOWNS
SUSSEX INFO