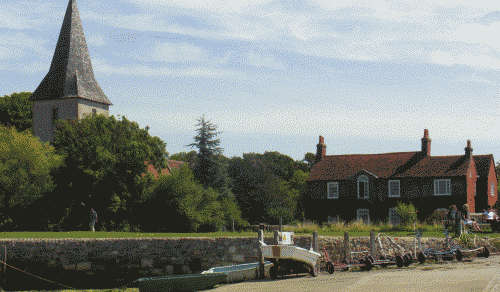 Bosham
Bosham is definitely one of the prettiest villages on the south coast.
It combines a beautiful setting next to Chichester Harbour with a vibrant but relaxed atmosphere.
Bosham gets quite busy in summer, but it's not too crowded.
There's a lovely and ancient church (which is shown on the Bayeux Tapestry), tea shops (which aren't), restaurants, sailing clubs and lots of things happening on the water most of the time.
Bosham Walk is an arcade of mainly art and crafts shops which usually attracts plenty of visitors in the summer.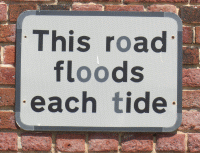 Be careful where you park your car by the way – when the tide comes in it usually inundates the road immediately next to the harbour. You can see the effect on cars in some of the photographs in the nearby Anchor Bleu pub. Although they're funny, you probably wouldn't laugh if you found your car standing in three feet of water.
Bosham, of course, has long been associated with the story of King Cnut and the incoming tide. It seems fitting that, even today, the story repeats itself once in a while.
It is thought that a skeleton found in the church in 1865 during renovation work is that of Cnut's daughter Gunhilda of Denmark who is supposed to have drowned in Bosham Mill Stream.
Today Bosham is a popular place for dinghy sailing, although this far up the Bosham Channel low tide means plenty of gently shelving mud flats and rich pickings for birds for quite a lot of the day.
Where to stay near Bosham
The Raptackle at Bosham
BOSHAM INFORMATION
Bosham church's friendly change ringers.
Bosham Walk is a popular arcade full of arts and crafts shops.
The Bosham Parish Council official website.
Friendly, uncompetitive badminton with a beer at the end of the match.
Nice blog style site with links to Bosham Cricket Clubs more staid Play Cricket site - which has fixtures and results on it.
Bosham Sailing Club is based at the Old Mill on Bosham Quay and the club has access to the Bosham Channel at all tides.
The Bosham Webcam site contains an extensive Bosham photo gallery.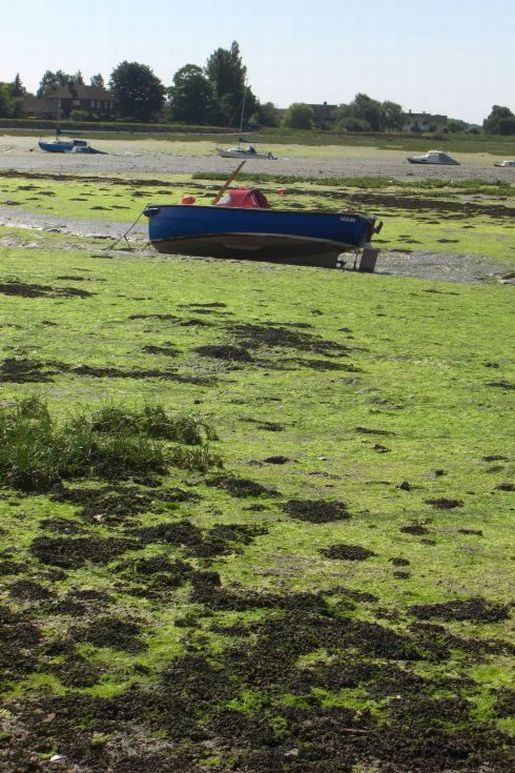 Low tide in the upper reaches of Chichester Harbour at Bosham
Bosham Mill stream
There has been a mill at Bosham right back to at least Saxon times, when Bosham was connected with King Cnut and was probably also one of the first footholds of Christianity in Sussex. In all probability the Mill Stream was built by the Romans. Later, King Harold set sail for France from Bosham - and this event is depicted on the Bayeaux Tapestry.
PLACES NEAR BOSHAM
WEST SUSSEX TOWNS
BOSHAM HOTELS AND BED AND BREAKFAST
BOSHAM SELF-CATERING ACCOMMODATION
LOCAL SAILING INFORMATION
SUSSEX INFO
CHICHESTER HARBOUR WEBSITES