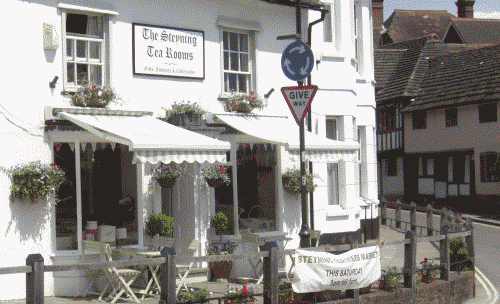 Steyning
Steyning is
one the the prettiest Sussex towns
. It has more or less everything - a fine high street, historic buildings, good shops and lovely countryside nearby.
Steyning has retained a lot of its charm because its economic development was literally left high and dry by the silting up of the River Adur. Steyning had been a trading powerhouse in the early middle ages, acting as a river port for the downland wool trade.
Mother Nature had other ideas however and the river Adur silted up leaving Steyning up a creek, so to speak. The Black Death and competition from other ports didn't help either. But the loss of the medieval folk of Steyning is our gain today.
Steyning is pretty well preserved. There are still plenty of old buildings in Steyning including Tudor style half timbered houses and some smart Georgian town houses too.
The Steyning bypass has also been a godsend, because unlike some other small towns and villages in Sussex, like Billingshurst for example, the High Street is now spared the constant drone of through traffic. It's still busy enough to have some life though and there are plenty of cars and people coming and going.
Steyning is one of the few places where there seem to be more independent retailers than high street chains. While you might not find many things that can't be bought elsewhere, shopping in Steyning is easy paced and enjoyable as a consequence of this variety of old-fashioned and more modern small shops.
Nearly every West Sussex town now has some sort of art festival or another and Steyning is no exception - in fact we here at West Sussex.info reckon the Steyning Festival has one of the best small arts festivals around.
Steyning Museum in Church Street is pretty good and worth a visit. The interior of the St Andrew's Church is also interesting with Norman carvings and other treasures on show.
Nearby attractions include the gorgeous village of Bramber, with its ruined castle and St Mary's House and Gardens and the river. The South Downs Way passes just to the south of Steyning at Botolphs, climbing towards some wonderful countryside around the Steyning Bowl.
Steyning is a Saxon town and its history dates back to at least the 8th century. The story goes that Steyning was founded by St Cuthman who, for some reason or another, was wheeling his mother around the countryside in a cart when some peasants laughed when the cart broke (and fair enough you might think). In the true spirit of Christianity St Cuthman summoned a great storm which spoilt the hay which the peasants were harvesting. Somehow this episode endeared the place to St Cuthman so much that he decided to settle down and build a church at Steyning. And the rest, as they say, is history.
Where to stay in Steyning
If you're looking for somewhere to stay in Steyning, why not check out our
guide to the best Steyning hotels and bed and breakfasts
or
holiday cottages near Steyning
for tips about good places to stay in and around the Steyning area.

PLACES NEARBY