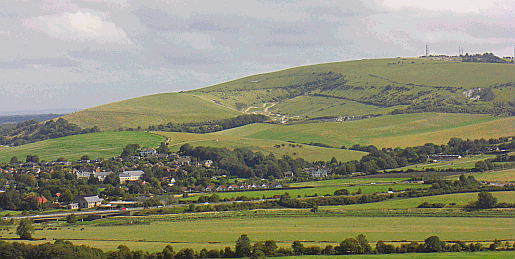 Upper Beeding
There's been a significant settlement at Upper Beeding for well over 100 years. In the year 858 the father of King Alfred (Aethelwulf) died here - he was buried just across the valley in Steyning.
After the Norman Conquest William de Braose got to work quickly on his newly plundered lands, rebuilding the Saxon Church with a more substantial one - the current St Peter's Church by 1073.
Seven years later he up a small priory of French monks here forming Sele Priory It was the successors of these monks who took on the task of spreading the word in an area of Sussex further inland - giving rise to the distinction between Upper Beeding and Lower Beeding, about 9 miles away.
In 1208 Beeding Church was the subject of a dispute between the villagers and the Archbishop of Canterbury when decades of the locals not paying their share of the upkeep of the church led to the Archbishop threatening them with excommunication.
The threat of eternal damnation soon did the trick - who says today's authorities overreact to minor offences? - and the villagers dipped deep into their pockets. As a result the church was rebuilt by 1308.
Beeding Cement Works
A striking more modern feature of Beeding is the large cement works, now disused and heavily vandalised.
Beeding Cement Works
cuts an unnatural but impressive swathe out of the western side of
Beeding Hill
.
The cement works take the form of a huge chalk quarry with massive processing buildings which were in production from 1851 to 1991.
While most of the relics of Sussex's industrial heritage are on a small scale, it's strangely quite refreshing to find such a large sign of how some Sussex people made their livings in the past. In time perhaps the site will be relandscaped or redeveloped into something more useful, but for the time being the decaying cement works are an uncommon addition to the sights of West Sussex.
UPPER BEEDING INFORMATION
Upper Beeding Primary School appropriately is at School Road, Upper Beeding, Steyning, West Sussex BN44 3HY.
The Upper Beeding baptists are involved in supporting communities in India, Russia and Ecuador, as well as worshipping closer to home in Sussex.
This unusual equine medicine school is at St Peterís Stud, Church Lane, Upper Beeding, West Sussex BN44 3HP. The School teaches people from all over the world who want to learn how to heal horses in this unusual way.
Upper Beeding F.C. play their home games at Memorial Playing Field, High Street, Upper Beeding. The club's 1st team plays in the West Sussex Football League. The club also runs a ladies football team and several junior XIs and provides junior football coaching..
The Tottington Woodlanders are a charity who aim to support an area of woodland a couple of miles north of Upper Beeding fringing the south of Small Dole.
PLACES NEARBY
WEST SUSSEX TOWNS
STAY INFORMED
SUSSEX INFO