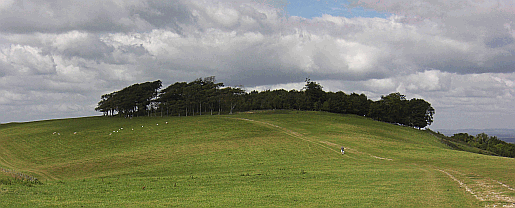 Chanctonbury Ring - a West Sussex landmark
Chanctonbury Ring is one of the most prominent landmarks along the South Downs. The ring is an
Iron Age hill fort
above Worthing
and the Findon Valley which is best known for its prominent clump of beech trees.
The trees were planted in 1760 by Charles Goring, heir to the large Wiston Estate – and even then there were plenty of NIMBYs who complained that he was spoiling the environment!
Goring was 20 at the time the trees were planted and he lived to a ripe old age and was able to see some of the trees approach maturity. Beech trees live 250 years on average and the oldest recorded in Britain is apparently 320 years old. For the record, they grow up to 150 feet tall.
Despite sustaining a fair amount of weeding out in the October 1987 hurricane, the surviving trees are mightily impressive. A replanting programme was carried out and the new trees are coming along nicely.
Despite the damage caused by the hurricane Chanctonbury Ring is still a good place to wander around enjoying the views of the coastal plain and the sea beyond.
The site has a rich history before 1760. Like many of the high points near the coast it has associations with the Armada invasion and Roman coins and other artefacts have been found here too.
Chanctonbury Ring has been associated with mysterious forces for as long as anyone can remember.
It is said that on a midsummer's night you can summon the devil from the underworld by running backwards around the ring six times - how on earth did anyone discover that! Perhaps they just happened to be running backwards round Chanctonbury Ring and before they knew it...
More recently local UFOlogists are convinced that Chanctonbury Hill is a hot spot of extra-terrestrial activity.
WEST SUSSEX TOWNS
SUSSEX INFO