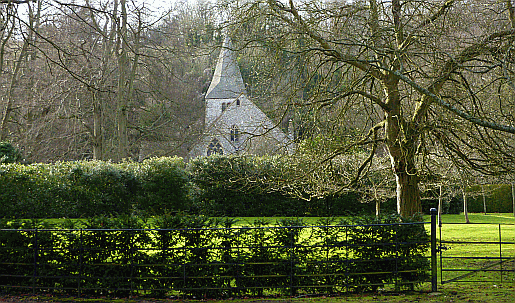 Findon
Findon
sits underneath
Cissbury Ring
, just behind the South Downs above Worthing. The village itself is nicely laid out, with a central square, fine houses and there's a handful of shops too – a rarity in most Sussex villages these days.
Findon is famous for horse racing, with it stables being looked after by two of the greatest racehorse trainers of all time – Josh Gifford and before him Captain Ryan Price, who was champion National Hunt trainer five times in the 1950s and 1960s. Under Ryan Price, the Findon Stables also turned out some outstanding flat racing horses in the 1970s including classic winners Ginevra and Bruni.
The village is also the home of the great Findon Sheep Fair which, after a few stuttering steps during the recent foot and mouth disease crisis is now back to some sort of full health.
The Sheep Fair itself dates from the 1780s, but there had been a fair in Findon since 1261. It must have been an amazing spectacle, with shepherds driving their flocks to Findon from all parts of the South Downs.
It's traditional for the sheep fair to be held on 14th September, although these days the event stretches out over a long weekend. The event no longer includes the sheep auction that was the original point of the whole shebang because auctioneers don't find it cost effective any more.
FINDON INFORMATION
The Sheep Fair has been greatly mucked about by difficult circumstances in recent years, not least the foot and mouth disaster. Still, it's good that there is a determination that the village holds on to its centuries old fair. Findon Fair must have been one of the truly great events in the Sussex summer calendar in the middle ages, drawing shepherds, flocks, revellers and onlookers from miles around.
Findon Sheep Fair is still great weekend event though - it all takes place in September at Nepcote Green. Lets hope it survives and flourishes for many centuries to come.
Findon's Church of England Church is St John the Baptist at the bottom of Church Hill.
Findon's Baptist Church.
Practically everything you might wish to know about Findon - highly recommended.
The Findon section of the Arun District Council website.
1st Findon Scouts have Beavers, Cubs and Scouts sections. The scouts are currently fund raising for their Scout Hut Replacement Project, following serious vandalism of the scout hut in 2003.
Findon Cricket Club play in an absolutely fantastic location - the cricket ground is situated beautifully by the surrounding hillsides - and the club play, with quite a bit of success, in the Sussex County League, having previously competed for many years in the Sussex Invitation Cricket League. Findon CC have also done spectacularly well in the national village club championship in recent years - having been finalists once and semi finalists on two other occasions.
"courteous, expedient, professional" - just what you would expect of every gentleman cyclist.
Findon has its own open air
swimming pool
which is open throughout the summer. You can book the pool for private parties on Sundays.
The Residents Association takes an interest in matters effecting all local amenities, but particularly traffic and the noisy A24 which runs through Findon Valley.
Findon Dog Training Club meet at Washington Village Hall, Worthing Rugby Club and make use of land at Storrington from time to time for demonstration team practice.
WEST SUSSEX TOWNS
STAY INFORMED
PLACES NEARBY
SUSSEX INFO