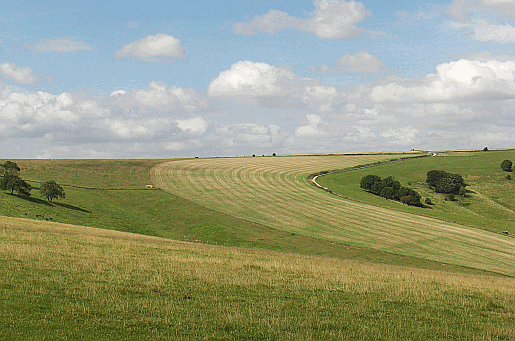 The South Downs Way
Steyning Bowl
The Steyning Bowl is a wonderfully sinuous hillside overlooking the
lovely country town of Steyning
, which is well worth visiting if your schedule allows time for it.
Paragliders particularly enjoy the Steyning Bowl because it has slopes which face in many different directions. This means that the crazy folk who want to throw themselves off the side of the hill are likely to find a suitable air current to sweep them up to a dizzying height.
As you approach Steyning Bowl you will probably notices the chinky flint memorial to local farmers Mr and Mrs Walter and Mollie Langmead.
As you leave the Steyning Bowl the South Downs Way passes to the south of a small triangular clump of trees called the Bramber Beeches.
The Bramber Beeches were bought with money donated by branches of the Womens Insitute from all over West Sussex to mark the Sussex WI's diamond jubilee in 1979 - a fittingly local tribute, especially because the first ever WI meeting took place in Sussex in the Fox at Charlton.
SOUTH DOWNS WAY - WHERE TO STAY
SUSSEX INFO
SOUTH DOWNS WAY - STEP BY STEP
SOUTH DOWNS WAY INFORMATION
WEST SUSSEX TOWNS
STAY INFORMED