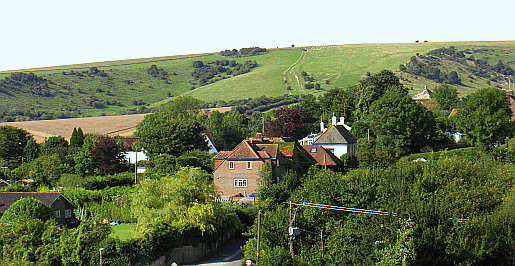 Pyecombe
Pyecombe
is a small village at the foot of the Sussex Downs which stands at the intersection of the A23 London to Brighton Road with the South Downs Way.
Pyecombe has a particularly attractive church – the Church of the Transfiguration, which dates from the late 12th century and which contains a lead font which, so the story goes, was saved during the Civil War by being painted with whitewash by the villagers to disguise it from looting soldiers.
Pyecombe is also associated with high quality shepherd's crooks, with the Pyecombe Crook being viewed as the Rolls Royce, Cartier or Cristal of this most important piece of shepherd's equipment, coveted by bishops across Christendom.
PYECOMBE INFORMATION
Pyecombe is a good old fashioned Sussex
downland golf
club. You can expect the challenge of plenty of wind, lots of sloping lies and a good round of golf. Visitors to Pyecombe Golf Club are welcome and the club website has a useful hole-by-hole guide.
Pyecombe is the home of a high quality indoor and outdoor
equestrian training
and competition centre at Brendon Stud, Haresdean Farm, London Road, Pyecombe, West Sussex BN45 7ED.
The parish council's fine website tells you more about politics in the village.
Map of the Pyecombe area
INTERESTING PLACES NEAR PYECOMBE
WEST SUSSEX TOWNS
STAY INFORMED
SUSSEX INFO