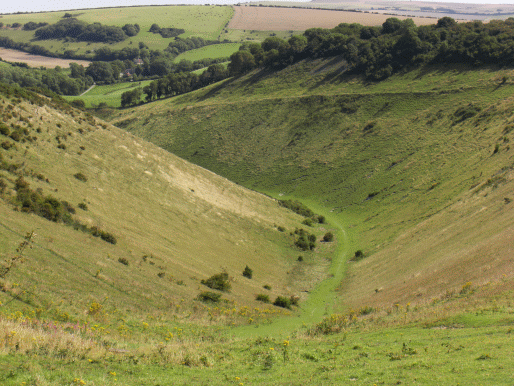 The Devil's Dyke
The Devilís Dyke
is a spectacular cutting in the South Downs north of Brighton and immediately above the villages of Fulking,
Poynings
and Saddlescombe.
The general area is very popular with Brightonians looking to get out in the countryside and admire the views from the top of the Downs.
In the summer the Devil's Dyke is also quite busy with walkers and mountain bike enthusiasts because the South Downs Way passes along it and the Sussex Border Path skirts its eastern and southern edges.
There is a thriving downland habitat around the Devilís Dyke in which rare orchids, butterflies and other insects thrive.
An iron age fort with a tumulus sits at the top of Devilís Dyke and is easily accessible. The entire Devil's Dyke Estate is managed by the National Trust. There is also a good, but inevitably windy golf course on the southern slopes of the South Downs next to the Dyke.
It is possible to take a bus from Brighton up to the top where you can enjoy lunch or a drink at the Devilís Dyke Hotel. Edwardian pleasure seekers were able to take a train up the hill and view the Dyke from a cable car, but these exotic modes of transport have long since been abandoned.
The views from the Devil's Dyke to the north are truly astonishing. It is as if the entire Weald opens up to you on a clear day. There is a telescope with a very good panoramic map next to it which picks out all the many places of interest which can be spotted from the top of the Dyke.
The legend of the Devilís Dyke runs that the Devil tried to drown all the Wealden churches by cutting a huge swathe through the Downs towards the sea at night. An old woman saved the day by lighting a candle to see what all the kerfuffle was. The Devil, so close to finishing his task must have been a bit tired, because he confused the candle with the rising run and scarpered, leaving the Dyke unfinished.
WEST SUSSEX TOWNS
STAY INFORMED