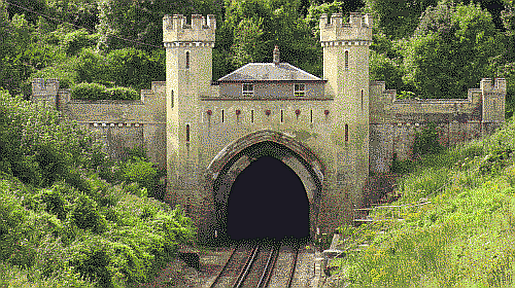 Clayton in West Sussex
Clayton is a tiny village underneath the Downs which is justly famous for the Jack and Jill
windmills
which sit above it.
The village church is one of several to include medieval wall paintings by the monks from the Priory at Lewes (thought to be the same ones who got busy with their paintbrushes at Botolphs). The paintings show The Last Judgement and Christ in Glory and were discovered during renovation work a century or so ago.
Other local points of note are the railway tunnel (yes really – it is worthy of note because at the time it was built in the 1840s it was considered a marvel of the engineering world). The tunnel, which is 2,066 metres long, is still in daily use as the main London to Brighton line gets swallowed up by it.
The tunnel, which is reputedly haunted, was also the scene of one of Britain's worst railway disasters in 1861 when a three train pile up left 23 people dead and 175 injured in the tunnel.
So spare a thought for those poor souls and the railwaymen who had to live with the terrible consequences of their errors next time you are on the train to London or next time you make a mistake at your own work.
CLAYTON INFORMATION
The Society has restored Jill Mill at Clayton. The site tells you how their work all started and keeps you up to date with the maintenance work being carried out, visitor opening times and pretty much everything you might ever want to know about Jill Mill short of actually going there.
Clayton is one of the few stoolball clubs in Sussex to have its own website.

PLACES NEARBY
RELATED PAGES
SUSSEX INFO