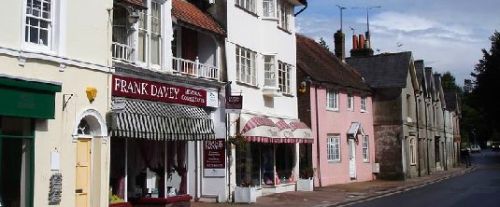 Hurstpierpoint
Hurstpierpoint
is a charming small village with some good Georgian houses in its main street as well as a church designed by the same architect who drew up the plans for the Houses of Parliament (Sir Charles Barry, who incidentally also designed the Church of St Peter in Brighton and St Andrew's in Hove as well as the Royal County Hospital in Brighton).
Near the village is Danny Park, which for centuries was the home of the Pierpoint family from which Hurstpierpoint derives its name (Hurst means wood in Saxon). The family itself had connections with the area which dated back to Norman times. The grand Elizabethan house which stands in Danny Park today was built by George Goring (one of whose descendants planted the trees on Chanctonbury Ring ).
The house was the place where the outline terms of the Armistice Agreement was drawn up at the end of World War One. Prime Minister David Lloyd George had been renting the house at the time and the war cabinet met here on many occasions.
Although Danny has now been turned into apartments, it is open to the public from time to time.
HURSTPIERPOINT INFORMATION
Amdram kings and queens of Hurstpierpoint
The official website of Hurstpierpoint & Sayers Parish Council.
Meet the friendly cows, sheep, alpacas and other animals at Washbrooks Farm. A kids' day out.
Keeping an eye on the beautiful village of Hurstpierpoint with a view to keeping it that way.
The flower club meet in Hurstpierpoint Village Hall for flower exhibitions, competitions and talks.
Hurstpierpoint and District Agricultural Society's big ploughing match at Hook House Farm.
Playing in the Sussex County Football League
PLACES NEAR HURSTPIERPOINT
Ansty
|
Ardingly
|
Balcombe
|
Bolney
|
Burgess Hill
|
Cuckfield
|
Cowfold
|
Handcross
|
Hassocks
|
Haywards Heath
|
Henfield
|
Lindfield
|
WEST SUSSEX TOWNS
STAY INFORMED