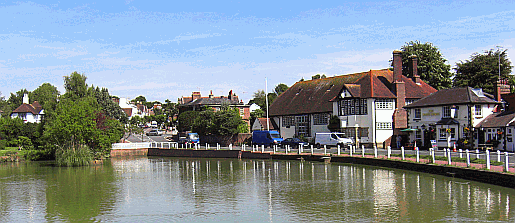 Lindfield - best kept village in West Sussex
Lindfield
is now nearly gobbled up by Haywards Heath, but at its heart it's a
very pretty
Sussex village with an almost professional pride in its appearance.
Lindfield won the Best Kept Village in Sussex so often that it was persuaded to withdraw at one point just to give everyone else a chance – so you can be sure that everything about the place is just right.
There are plenty of attractive building still preserved in the village. Old Place is a small Elizabethan gabled house, Thatched Cottage is a very attractive ..er, thatched cottage.. and the village pond is just about perfect.
The village church is sited on raised ground and peers down over the village and the nearby Church House used to be the village inn – The Tiger. The Tiger used to be a staging post on the London to Brighton route before the railways made this role redundant.
If you're visiting Mid-Sussex, Lindfield is easy to get to and well worth visiting
LINDFIELD INFORMATION
The horticultural society in Lindfield is extremely popular, with over 400 members and meetings twice a month as well as many flower shows and competitions.
There are some lovely bonfire pictures on the Lindfield Bonfire Society's website.
The Lindfield Parish Council official website.
The well cared for website of the Lindfield Local History Group contains information on War Memorials in the area, Walstead Burial Ground and other aspects of Lindfield's history.
Lindfield Bowls Club take part in the Surrey / Sussex Border League for men and Mid Sussex Mixed Bowls League.
One of the most go-ahead cricket clubs in Sussex.
The first team of Lindfield F.C. play in the Mid Sussex Football League Premier Division and the strength in depth of football in Lindfield is shown by the large number of teams put out by the club.
Junior Football in Lindfield
A friendly looking club for those who want to play tennis in Lindfield
The Lindfield Society holds its meetings in the impressive King Edward Hall in the village (pictured above).
WEST SUSSEX TOWNS
STAY INFORMED

PLACES NEAR LINDFIELD
SUSSEX INFO