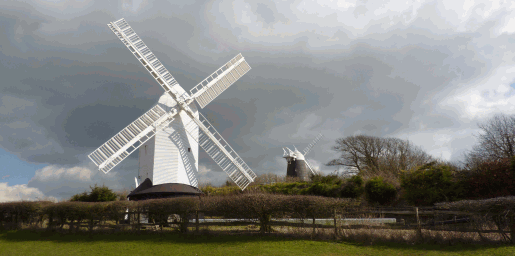 The South Downs Way
Jack and Jill - the Clayton Windmills
You will already have had glimpses
Jack and Jill windmills
as you climb up through the golf course at Pyecombe.
Although they almost disappear from view for a short while, the South Downs Way soon turns to the north, taking you much closer to this remarkable pair of Sussex windmill landmarks.
At Clayton windmills it pays to be able to tell the difference between Jack Mill and Jill Mill.
Jack is the taller of the two lovely windmills and it is a private house.
Jill Mill is open to the public on most Sundays during the summer.
It was Jill Mill which incredibly was dragged to its present site by Oxen after being sold in 1852. Previously the mill had been located in Brighton, where it was known as Lashmar's New Mill.
Jill Mill has now been restored to full working order by the Jack and Jill Windmills Society.
There's a car park in front of the two mills and a terrific viewpoint.
If you are nearing the end of your journey and want to take the train from Hassocks station, there's a steep but very enjoyable walk down through fields to the village of Clayton. The route then continues on a footpath alongside the railway to Hassocks, where you can catch a train to Brighton or travel towards London.
SOUTH DOWNS WAY - WHERE TO STAY
SOUTH DOWNS WAY - STEP BY STEP
SOUTH DOWNS WAY INFORMATION
SUSSEX INFO