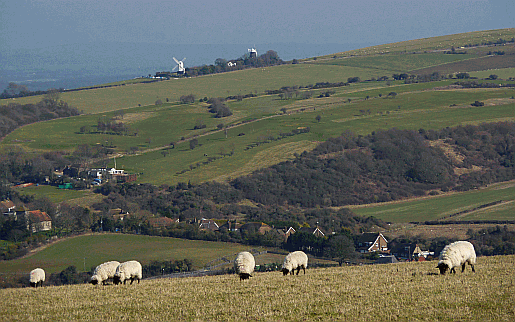 The South Downs Way
Pyecombe village
The final section of the South Downs Way as it sweeps down into
Pyecombe
is very chalky and can be very squelchy and slippery.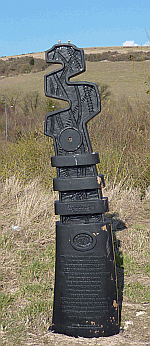 As the South Downs Way approaches the A23 you might notice the juxtaposition of two of the best known symbols of British greatness.
Hobbs Cottage flies the flag of St George, while a hundred or so yards away the petrol station displays the logo of British Petroleum - BP.
Then those two other symbols of civilisation in Pyecombe do their best to catch your attention.
A large sign declares the delights of The Plough public house, while to the left an even older establishment - Pyecombe Church - sits high on a bank reminding you that it too desires your patronage.
The South Downs Way skirts alongside the A23 for two or three hundred yards. There's a bus stop besides the A23 which can be reached easily by means of a small slip path. Buses take you northwards towards Crawley.
There's an opportunity to look back at the glorious sweep of the Newtimber Hill Estate. The South Downs Way crosses the A23 over the road bridge and continues into the village of Pyecombe.
You might notice as you turn to cross the A23 an unusual monument. Six foot tall, paid for by the cycling group SUSTRANS and containing an inscription of a poem by David Dudgeon - it's a monument to cyclists and cycling.
SOUTH DOWNS WAY - WHERE TO STAY
SUSSEX INFO
SOUTH DOWNS WAY - STEP BY STEP
SOUTH DOWNS WAY INFORMATION
WEST SUSSEX TOWNS
STAY INFORMED