Trotton
You could pass through Trotton without taking much notice of anything other than the traffic lights over Trotton's ancient bridge as you speed along the busy A272.
But Trotton Church contains some really special early English artworks.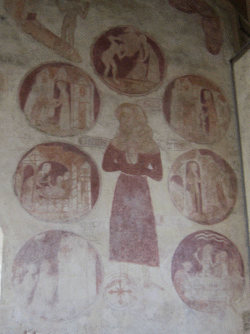 At the rear of the St George's Church the walls are covered with medieval wall paintings.
The paintings, which were discovered in 1902, probably date from 1380. All-in-all the pictures are in a remarkably good condition.
These unusually monochrome artworks show the Last Judgement together with the Seven Deadly Sins and the Seven Acts of Mercy - you can easily imagine the impression these pictures would have had on the villagers of Trotton parish during the middle ages. They are pretty awe inspiring even today.
Trotton Church also contains two fantastic medieval brasses.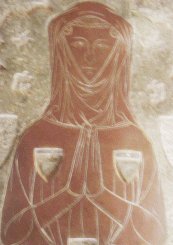 The first of these brasses is even older than the wall paintings - it is set into the floor of the church and depicts Lady Margret de Camoy and dates from 1310. She is shown in the picture on the brass wearing a wimple and veil and praying.
The second of these sits in front of the altar and is protected by a perspex screen - the brass shows Baron and Baroness Thomas Camoys.
The couple are holding hands, with Sir Thomas wearing a fine suit of armour and Lady Camoys dressed up to the nines.
The picture (see below) conveys wealth, power, military might and tenderness at the same time and is quite moving. Baron Camoys died in 1421, six years after playing an important role in the Battle of Agincourt - one of the key moments in English military history. He was a Knight of the Garter.
Trotton was the birthplace of a much-loved Sussex favourite in 1980 - Ballard's Brewery. While Ballard's started here in Trotton, it soon moved and now resides at Nyewood, mid way between Rogate and South Harting .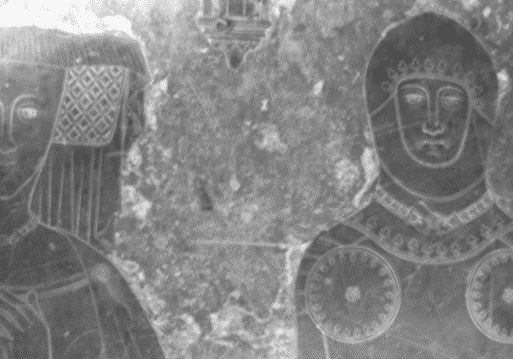 TROTTON INFORMATION
Details of service times at Trotton village church.
One of the UK's top breeding, training, and western riding facilities is located at Dumpford Manor Farm near Trotton.
WEST SUSSEX TOWNS
STAY INFORMED