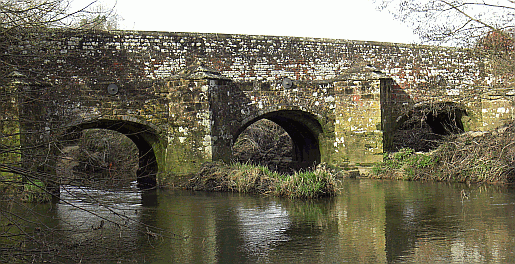 Woolbeding
Woolbeding
is a small but extremely smart village a couple of miles north west of Midhurst in West Sussex.
Apart from the generally well-heeledness of the villagers, the area around All Hallows Church and Woolbeding Gardens is almost perfect - there is hardly a blade of grass out of place and the churchyard has a formality about it that is untypical of the other churches in this part of West Sussex.
Woolbeding Bridge
Just south of the village of Woolbeding, Woolbeding Bridge, shown above, is one of the
River Rother
's several fine sturdy stone bridges that do the same job today as they have done successfully for hundreds of years - carry traffic across the river.
These Rother bridges are not just functional - they are also things of great beauty - and Woolbeding's narrow medieval bridge is well worth a detour from the busy A272 a couple of hundred metres to the south.
The Woolbeding Estate SSSI
The
Woolbeding Estate
is an important heathland site which is run by the National Trust. The Estate is in the northern part of the parish, nearer to the settlement of Redford, than Woolbeding village itself.
Combined, Woolbeding Common and the adjoining Pound Common are a Site of Special Scientific Interest because of rare birds like nightjars and woodlarks which cling on to survival there.
The heathland isn't an entirely natural landscape - it requires constant management to ensure that it doesn't become overrun with scrub.
Woolbeding Common bears the marks of being cultivated in strips in the middle ages and it is relatively easy to pick out boundary banks faced with stones which are believed to be at least five hundred years old.
The New Lipchis Way Susex footpath runs through Woolbeding, close to the Rother.
Where to stay near Woolbeding
LOCAL ATTRACTIONS
WEST SUSSEX TOWNS

STAY INFORMED
VILLAGES NEAR WOOLBEDING
TOURIST INFORMATION
SUSSEX INFO