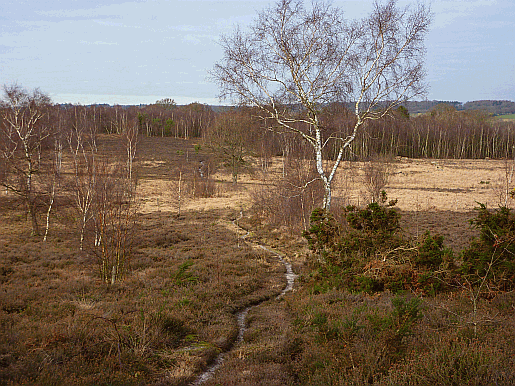 Managed heathland at Iping, Stedham and Trotton Common
Just to the south of the Rother Valley villages of
Iping
,
Chithurst
and
Stedham
lies a beautiful area of common sandy heathland.
In succession Stedham Common, Iping Common and Trotton Common are some of the finest examples of sandy heathland habitat in West Sussex.
If you are interested in birdwatching look out in particular for nightjars and listen for their distinctive call.
Like the heathland environment at Duncton and Lavington Commons further along the greensand belt, the landscape isn't entirely natural.
It requires careful clearance of bracken and other undergrowth and a rigorous restriction of the number and position of trees allowed to grow to be an environmental success.
The commons also have two groups of significant Bronze age barrows and the Commons were also used for tank manouevers by Canadian soldiers during World War II.
There's a car park just south of the A272 road from Petersfield to Midhurst, opposite the entrance to Iping village and Iping Bridge.
This is a good place to start a circular walk around Trotton Common, Iping Common, Stedham Common or all three in one big loop.
Extending the walk north of the A272 to loosely follow the course of the River Rother from Trotton to Stedham and even Woolbeding is enjoyable too, although the scenery is quite different in the river valley.
LOCAL ATTRACTIONS
WEST SUSSEX TOWNS

STAY INFORMED
VILLAGES NEAR THE COMMONS
NATURE RESERVES

TOURIST INFORMATION

SUSSEX INFO