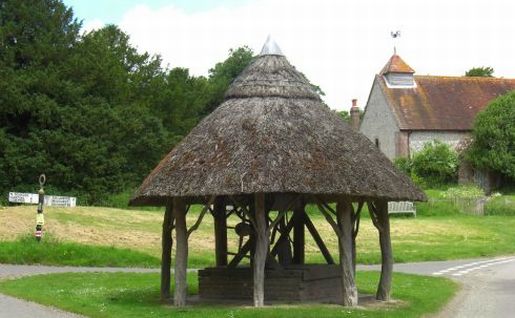 East Marden
Is this the smallest village green in West Sussex?
The church of St Peter, East Marden is in the background, part of the Octagon group of parishes which contains the eight churches of Compton, Forestside, North Marden, Racton, Stansted, Stoughton and Up Marden as well as East Marden.
The chancel and nave are the oldest part of the church and they date from the end of the 12th century.
The church organ has a royal connection - it used to be owned and played by Prince Albert, Victoria's other half. The organ was previously housed in St James Palace.
The great philosopher Bertrand Russell lived in East Marden for a while, opening a school in Battine House in 1928 to 1931. While the older children lived in some style with Russell and his formidable wife Dora in East Marden, the rest of the children lived at Telegraph House nearby. Although the school did not last especially long, it helped to pioneer libertarian education and the belief that freedom would bring maturity and responsibility to boys and girls.
Russell himself wasn't too sure that his experiment was a successful one though, remarking in later life "It wasn't at all the sort of place I had imagined it would be".
WEST SUSSEX TOWNS
STAY INFORMED

VILLAGES NEAR EAST MARDEN
LOCAL ATTRACTIONS
TOURIST INFORMATION

SUSSEX INFO