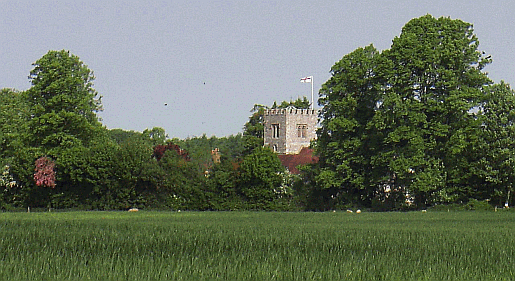 Funtington
Funtington, five miles west of Chichester, is one of the larger villages in West Sussex, with around 1,500 inhabitants.
The village church of St Mary's is a large one too, serving as the central church in a large parish which includes the smaller chapel at Senicotts. The church at neighbouring West Stoke is served by the same vicar and rector, helping to combine the life of the two villages to a certain extent.
Most of what you can see in the church today is Victorian - Pevsner describes the 1859 restoration of St Mary's as "senseless" - it still has plenty to commend it though and is worth a visit.
Unlike most West Sussex villages, Funtington has done a good job of holding onto its local services - as well as the Fox and Hounds pub, there's still a village shop and a farm shop too.
Hallidays Restaurant is very small, friendly and serves up high quality food. It is also currently sporting a brand new thatch on its roof.
Funtington is well-known locally for its pigs - distinctive metal pig stys are stretched out on the flat land to the south and west of the village - you can't miss them.
There's plenty of evidence of iron age man in and around the parish, from the tumuli and barrows on Kingley Vale to the north to the Devil's Ditches at the eastern end of Funtington. Kingley Vale National Nature Reserve is a fairly easy walk from Funtington, either past Asdean or via Stoke Down.
Funtington airfield served the Allied cause in the Second World War, augmenting the work of Tangmere and Westhampnett (Goodwood) airfields between 1942 and 1945.
Where to stay near Funtington
FUNTINGTON VILLAGE INFORMATION
Gives details of service times at Funtington, West Stoke and Sennicotts.
Funtington's very own amateur dramatics society.
Funtington village school website.
Funtington Parish Council website.
A website telling you all about the village's ambitious plans for a new village hall.
The parish council's useful website contains information about clubs in the village like the Funtington Flower Group, Funtington Literary Society and Womens Institute.

WEST SUSSEX TOWNS
STAY INFORMED