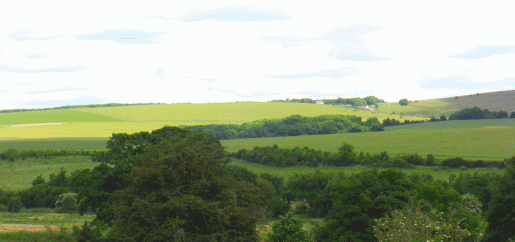 Lavant
Lavant is actually three separate villages (
Mid Lavant
,
West Lavant
and
East Lavant
) lying in the Lavant Valley 2 miles north of Chichester, close to Goodwood.
West Lavant is pretty but tiny, containing a few houses, Lavant House School and its stables.
East Lavant is worth a visit. There's a solid Norman church (St Mary's), some lovely houses and a good walk up Chalk Pit Lane to the top of the Trundle where you can enjoy fantastic views of the coastal plain from Littlehampton across to Southampton and the Isle of Wight as well as a spectacular vista of Goodwood Racecourse and the hills to the north around Singleton and Charlton.
The walk is about 3 km to the top of the hill. The Monarch's Way long distance footpath runs along the crest of the hill on the right of the photograph above.
The village is named after the River Lavant which flows through a beautiful, if short valley from its source near Singleton.
Most of the year the river bed is dry, with the river flowing out of sight below the surface. The river flows nearly every winter however. In 1992 the River Lavant flooded the large village green at East Lavant and went on to flood parts of eastern Chichester where the culverting which runs underneath the city centre became partially blocked.
The architect Hugh May was born at Raughmere in Lavant in 1621. He went on to become one of the foremost architects of the Restoration period in England. Although few of his buildings are still standing his work had a great influence on the rebuilding of London after the Great Fire of London, partly through his role as a Commissioners for Rebuilding the City of London and partly through his influence on his more famous Co-Commissioner, Christopher Wren.
Lavant hotels and bed and breakfast
LAVANT INFORMATION
The Lavant Parish Council official website
West Lavant
stables and livery
connected with Lavant House girls school
Guest speakers, garden visits and the all-important annual show.
Amateur dramatics society performing in the village hall next to Lavant's lovely village green.
The village football club.
The website of St Mary's Church in East Lavant and St Nicholas's Church in Mid-Lavant.
WEST SUSSEX TOWNS
STAY INFORMED

PLACES NEAR LAVANT
SUSSEX INFO