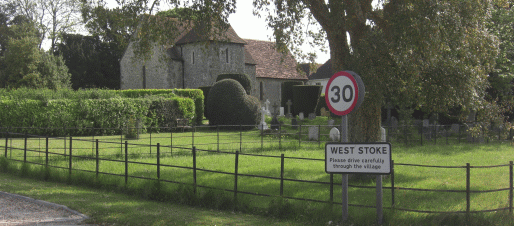 West Stoke
For such a small village, West Stoke has a lot going for it.
West Stoke is the gateway to Kingley Vale National Nature Reserve, a beautiful, important and unusual part of the South Downs. You can park at West Stoke and walk along Stoke Down before reaching the slighly steeper climb up to the Nature Reserve itself.
Mountain bikers are encouraged to use the bridleway which runs up to Kingley Vale from Woodend a kilometer to the west of West Stoke.
St Andrew's Church in West Stoke, like many on this part of the South Downs contains fragments of medieval wall paintings which were discovered during redecoration work. It is thought that the paintings date from the early 13th century. There are wall paintings of a similar age on the other side of Kingley Vale at the Church of St Michael at Up Marden and others further afield at the churches in Trotton and Hardham.
A recent addition to the village was the classy restaurant housed in West Stoke House, which is also an hotel.
In no time at all West Stoke established a reputation for its food, not just in West Sussex, but also nationally, attracting rave reviews from national newspapers and restaurant and hotel guides. It was certainly one of the more upmarket restaurants in this corner of West Sussex.
Sadly, despite attracting a great deal of attention, West Stoke House closed in 2011, showing how hard it is to create a destination restaurant in a rural area like West Sussex, especially in an iffy economy.
WEST SUSSEX TOWNS
STAY INFORMED