Racton Monument - a ghostly folly?
Racton Monument is a
ruined tower
built on a beautiful small hill south of Lordington House near Funtington.
It's fair to say that it divides opinion.
Firstly, there are those who love the esoteric nature of any folly. Theodosius Keene, himself the son of a distinguished architect, is thought to have designed the eighty foot high tower as an adornment of the nearby estate at Stansted House. Built in 1772 it's hard to say what the folly was for - but then, does a folly need to be for anything?.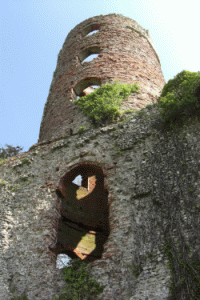 Some referred to the folly disparagingly as Stansted Castle, assuming it to be an act of grandeur, rather than just a celebration of individuality.
Others went further, deriding the style of the Tower for its undoubted ugliness. But many other people love Racton Tower.
Secondly, many think that Racton Ruins is one of the most frightening haunted places in West Sussex. Others disagree.
Let's consider the evidence.
There are plenty of reports of spooky comings and goings, bricks being thrown from the top of the unstable edifice, a ghostly woman appearing and other spectral beings. The myths surrounding the use of the tower by smugglers and the general decay of the ruins add to the Blair Witch project type feel of the place. Graffiti adds to the sinister atmosphere.
But the ruins have been a well known place for raves, drinking and drug taking and many of the reports of ghosts come from people who were, by their own admission, not exactly sober at the time of their brush with the undead. Practical jokes are probably not unknown for the same reason. That's not to say that everyone who has ever reported ghostly goings on at the tower was as high as a kite, but it certainly weeds out a few accounts from the ghost hunters' case book.
What isn't in doubt is that the site is evocative, atmospheric and definitely spooky, if not actually haunted.
There are plans afoot to restore the Monument - it badly needs it as the brickwork is in a very precarious state.
The best places to stay near Racton Monument
WEST SUSSEX TOWNS
STAY INFORMED