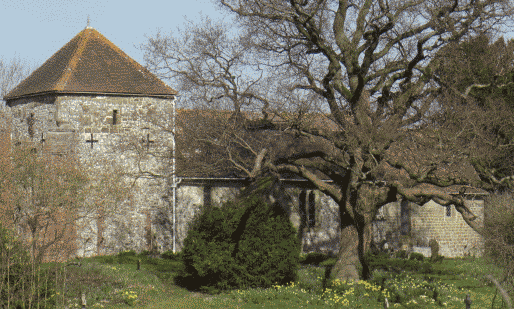 Bepton
Bepton
is an unusual village south west of Midhurst. The village is strung out over 3 kilometres or so, with two distinct parts being formed as a result of this dispersal.
The northern part of Bepton is centred round the pub - the Country Inn, and is close to Midhurst.
The southern end of Bepton is centred round St Mary's Church and the swish Park House Hotel. The nearest pub for southern Beptonites is at Cocking. This may not seem much of a problem, but villagers have sometimes remarked on the lack of focus to the village and a consequent shortage of community events and so on.
Bepton is, however, set in a fabulous location, underneath Bepton Down and Linch Down, which rises to a height of 248 metres, making it one of the highest points along the South Downs.
The South Downs Way runs along the crest of the hills here, just before the long descent towards Bepton's neighbouring village of Cocking.
In 1568 the Manor of Bepton was sold by Henry Joscelyn to Anthony Browne, Vicount Montague, thus making it part of the Cowdray Estate. Much of the village has remained in the ownership of the Cowdray Estate ever since and the tell-tale yellow paint of many of the doors and windows in Bepton shows how prevalent the Cowdray influence still is today here.
St Mary's Church was built in the thirteenth century on the site of a much older church which was mentioned in Domesday Book - unfortunately no traces of the older church remain.
BEPTON INFORMATION
Details of service times at St Mary's Church at Bepton.
Holiday accommodation in Bepton.
Bepton's smart and ever expanding Park House Hotel.
The Country Inn is in the northern part of Bepton, nearer to Midhurst than to southern Bepton and the village church.
It's not an olde-worldy country pub by any stretch of the imagination, looking more like a converted house than anything else, but once you are inside the beer is good and there's a nice atmosphere about the place.
PLACES NEAR BEPTON
WEST SUSSEX TOWNS
SUSSEX INFO