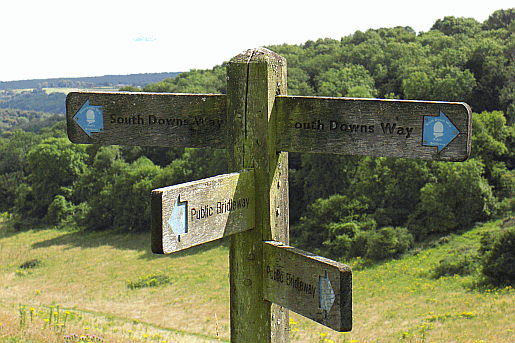 The South Downs Way in West Sussex
Harting to Cocking
This is the first part of the South Downs Way in Sussex with the sort of jaw-dropping views for which the Downs are famous.
There are wonderful open expanses of Downland to enjoy and open access land at Harting Down to explore too.
Main sections of this leg of the South Downs Way
Our guide to the South Downs Way picks out the main points of interest and characteristics of the countryside for each of these parts of the walk.
Section length
7.5 miles
Nearest towns and villages
South Harting, Elsted, Bepton, Cocking, Chilgrove
Food and drink
Two decent Pubs in South Harting below the South Downs Way. The Three Horseshoes at Elsted has a large garden with pretty views. The Royal Oak at Hooksway, which involves a short detour from the route, is very popular with walkers on the South Downs Way. Pubs and restaurants towards the end of the route at Cocking and Singleton.
Public Transport
The regular no 60 bus from Chichester to Midhurst stops two hundred metres south of the South Downs Way at Cocking on the A286.
Hazards to look out for
Beacon Hill is excessively steep and it's best to take the detour to the south.
The B2146 crossing at Harting Down is on a bend and demands care.
SOUTH DOWNS WAY - WHERE TO STAY
SOUTH DOWNS WAY - STEP BY STEP
SOUTH DOWNS WAY INFORMATION
WEST SUSSEX TOWNS
STAY INFORMED
SUSSEX INFO