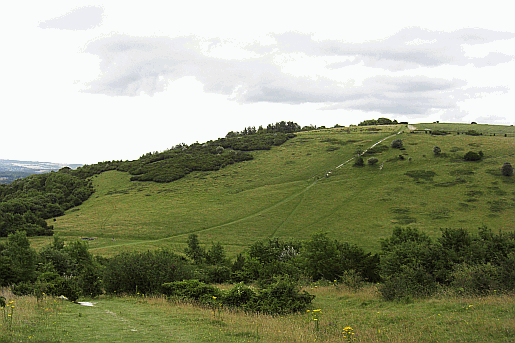 The South Downs Way
Harting Downs
Emerging from the woodland around Tower Hill you cross the Harting to Chichester Road (B2141) to reach one of the best parts of the South Downs Way.
This is the magnificent downland nature reserve at Harting Downs, which is one of many properties in Sussex run by the National Trust.
Harting Downs are collectively Harting Down, the appropriately named Round Down and , most famously, Beacon Hill.
This is a wonderful rolling landscape, fully open and allowing extensive views to the north, right across the Weald.
Beneath you is the large and interesting village of South Harting which has two good pubs and a church with a distinctive copper coloured spire which you can see very well from the hill tops.
If you are thinking of dropping down from the South Downs Way to visit South Harting it's best to use the footpath which runs a few metres to the west of the road for safety's sake. The road is very steep and has a series of sharp bends which makes it a dangerous place for pedestrians.
The National Trust car park at Harting Down, where a charge applies for NT non-members, makes this a good place to start a shorter walk along the South Downs Way.
And if you're lucky there might even be an ice cream van on hand on a hot summer's afternoon.
SOUTH DOWNS WAY - WHERE TO STAY
SUSSEX INFO
SOUTH DOWNS WAY - STEP BY STEP
SOUTH DOWNS WAY INFORMATION
WEST SUSSEX TOWNS
STAY INFORMED