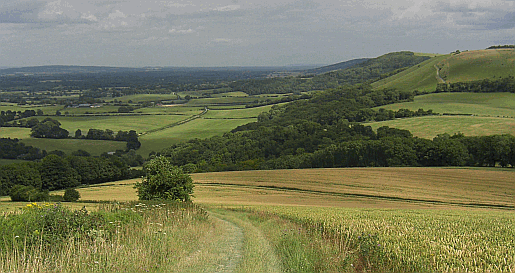 The South Downs Way
Treyford and Philliswood
The next section of this up and down section of the South Downs Way takes you up a steep slope up
Phillis Wood Down
.
As you pass through the wood you may notice a memorial set into the verge on the eastern side of the path. This memorial is for a pilot shot down in the Battle of Britain and reads:
In Memoriam Hauptmann Joseph Oestermann Pilot 1915-1940.
Oestermann's Junkers JU-88 was shot down by a pilot from RAF Tangmere on the very first day of the Battle of Britain - 13th August 1940. Oestermann's two fellow crewmen bailed out, survived and were captured.
The short operation life expectancy and incredible risks run by the brave airmen of the Battle of Britain is illustrated by the fact that Pilot Officer Mayers, the RAF pilot who is believed to have shot down the JU-88, was himself blasted out of the sky later the very same day and had to ditch in the English Channel. Mercifully P/O Mayers survived.
For the thirsty there's the prospect of a detour to The Royal Oak at Hooksway hidden in a valley side so steep it's as if the pub has been dropped into a hole and cannot get out.
There are plenty of old stories (practically all true) about legendary former landlord Alfred Ainger which have been told time and again (and are still told locally). The best of these stories relates the time when Midhurst magistrates asked him about the pub's toilet facilities and he replied "I've got 9 acres sir".
In more recent times Hooksway has hosted it's share of fun including a New Year's beach party a quarter of a century ago where the smaller bar was filled with sand for the night.
Unfortunately the sand was builders' sand and everyone who frolicked on the Royal Oak beach had a yellow tinge to their skin and clothes until springtime - including me.
If you want to go to the Royal Oak, then you'll need to make a detour towards the south west of around 1400 metres - downhill, but uphill on the way back to the route when you've had a couple of pints of local Sussex ale.
On the way you'll look down on the the picture perfect Phillisdown Farmouse in a hollow in Phillis Wood. A perfect sight.
SOUTH DOWNS WAY - WHERE TO STAY
SOUTH DOWNS WAY - STEP BY STEP
SOUTH DOWNS WAY INFORMATION
WEST SUSSEX TOWNS
STAY INFORMED
SUSSEX INFO