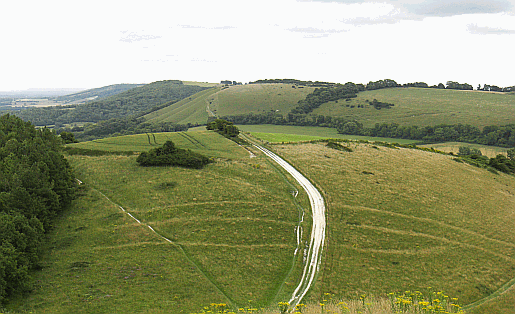 The South Downs Way
Pen Hill
When you've decided to leave the views from Beacon Hill behind you can look forward to one of the most enjoyable stretches of the route.
There's barely a hint of civilisation until you reach the village of Cocking, over 5 miles away.
The east side of Beacon Hill is a real roller coaster with the remote village of Treyford laid out in front of you and the full glory of the Sussex Weald behind it.
The steep slopes of Pen Hill drop down until they skirt the upper part of Elsted Hanger - one of a series of fine ancient woods defying gravity to cling to the hillsides of this stretch of the Downs.
You need to concentrate a little at the bottom of Pen Hill as the South Downs Way is criss-crossed with several other local footpaths and it's possible to take a wrong turn or two.
As the course of the South Downs Way sweeps southwards towards Buriton Farm, trusting your instincts and natural sense of navigation may not be enough to keep you on the right track.
SOUTH DOWNS WAY - WHERE TO STAY
SUSSEX INFO
SOUTH DOWNS WAY - STEP BY STEP
SOUTH DOWNS WAY INFORMATION
WEST SUSSEX TOWNS
STAY INFORMED