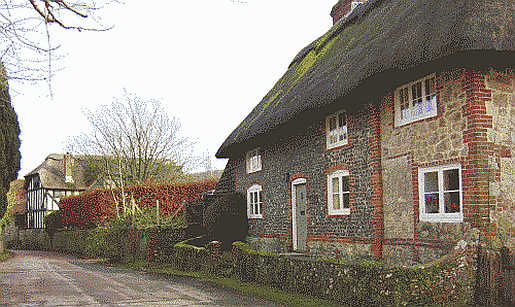 Amberley village
Amberley
is one of the most attractive of all downland villages. It has practically everything.
Firstly the setting is magnificent. On the east side there is the scarp slope of the Downs, rising up to Amberley Mount with a steep climb up to the South Downs Way . On the south and west sides of Amberley there's the atmospheric River Arun and the wild brooks, which are usually flooded for part of the winter.
The village has its own Castle, and although it's in use as a hotel and wedding venue rather than a good old-fashioned historic monument the castle is extremely atmospheric. Non-guests of the hotel can walk around the back of the Amberley Castle on their way into Amberley Swamp for a spookily medieval feel in wintertime, especially when there's mist hanging over the River Arun at the time.
Amberley Working Museum.
This is an interesting use of an old chalk pit above the railway station - it's now home to a treasure horde of old agricultural and industrial machinery, nearly all of it still functioning. There's also a great
beer festival
in the museum each year.
Many of the houses round here are gorgeous, with several thatched houses, plenty of lovely old brick and tilework and flowers all over the place.
One of the great sights of this part of the world in the winter is the Arun Valley filled with mist as seen from the surrounding Downs. A good way to enjoy the valley is to take a train from Arundel to Pulborough and back, passing through countryside that is hard to get close to by car and which is often muddy or underwater in winter - Amberley Swamp deserves its name.
The South Downs rise so steeply here that you can often see the gliders from the nearby Southdowns Gliding Club actually flying below you while you are up there. The gliders use the upcurrents caused by the steep slopes of the Downs and it's not unusual to suddenly find that a glider has reared up in front of you while you are walking along the Downs here.
Where to stay near Amberley
AMBERLEY INFORMATION
Amberley Folk Club takes place every Tuesday evening at the lovely (and beautifully decorated) Black Horse pub in the middle of Amberley.
The official Amberley Industrial Museum website.
Find out more about polelathe turning and other traditional Sussex green woodworking crafts practiced by the Amberley Green Wood Worker Group.
Map of the area around Amberley, West Sussex
PLACES NEAR AMBERLEY
HOTELS NEARBY
WEST SUSSEX TOWNS

STAY INFORMED

SUSSEX INFO