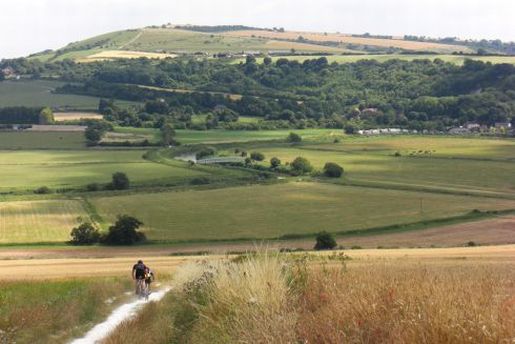 The South Downs Way looking towards Amberley Mount
Amberley Mount looms high above the very
pretty village of Amberley
, dropping steeply down to the River Arun, which is still tidal even this far inland - this means that you are dropping down almost to sea level. The South Downs Way swoops down into the
Arun Valley
from Bury Hill, from where this photo was taken.
It's a fantastic descent for mountain bikers, especially those like the biker in the photo who was taking part in the annual British Heart Foundation sponsored cycle along the whole of the South Downs Way. That's 100 miles from Winchester to Eastbourne.
But it's a hard climb back onto the South Downs Way on the other side of the valley too!
Find out more about Amberley, and the South Downs Way
Where to stay near Amberley Mount
WEST SUSSEX TOWNS
STAY INFORMED
PLACES NEARBY
HOTELS NEARBY