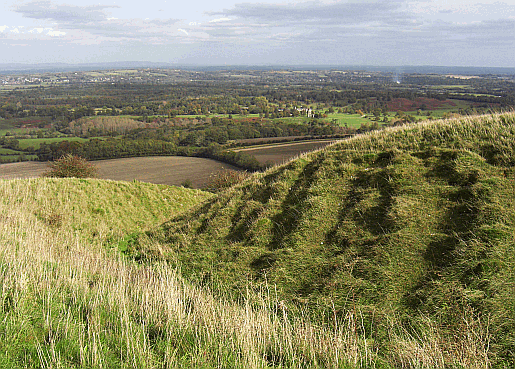 The South Downs Way
Amberley Mount and Rackham Banks
Leaving Amberley, probably with a full belly and a heavy heart, you now face one of the toughest climbs on the South Downs Way.
You have to make your way from a few metres above sea level to the mighty heights of Amberley Mount and the 200 metre contour.
At the start of the climb you reach the end point of another of the great walks across Sussex - the Wey South Path, which runs all the way from Guildford to Houghton Bridge.
You pass along the unseen cliff tops of the mighty chalk pit which houses an industrial museum. The road here is the magnificently titled High Titten - a glorious enhancement of any address. Despite these attractions, many years ago I chickened out of buying a house on High Titten, convinced that I would never sleep at night for fear of it falling into the chalk pit while I slept.
The house is still there, of course.
There's a sign here telling you that this is the half way point between Winchester and Eastbourne.
The South Downs Way climbs up the appropriately named Highdown, past Down Farm and onto one of the stretches of the route where you feel on top of the world. The northern slopes of the South Downs here are stripped bare of woodland making the views over the steep scarp slope breathtaking.
The Low Weald lies stretched out in front of you, with the Arun and Rother flowing through it to their junction at Hardham. It's fun standing at the top of Amberley Mount with an OS map picking out the towns and villages of inland West Sussex one by one.
Look out for the cross dykes of the Rackham Banks, substantial earthworks thought to have been boundary markers. Although some of the site has been flattened by subsequent farming over the centuries, analysis of a shard of pottery found at the Rackham Banks in 1929 suggests they were occupied in the Late Bronze Age.
SOUTH DOWNS WAY - WHERE TO STAY
SOUTH DOWNS WAY - STEP BY STEP
SOUTH DOWNS WAY INFORMATION
WEST SUSSEX TOWNS
STAY INFORMED
SUSSEX INFO