Bury
Bury is one of the sleepier villages in Sussex, but is set in
such a lovely location by the River Arun
that this is well worth a short detour to enjoy.
The village sits underneath the mighty Bury Hill from where spectacular views of the Arun Valley can be enjoyed. As the River Arun winds its way through its wide plain, it finds its way to the edge of Bury, where for many years a ferry operated across the river.
The village is known for its association with the English author John Galsworthy whose best-known work is the Forsyte Saga. Galsworthy lived in a Tudor style Edwardian mansion called Bury House during the last seven years of his life – he died in 1933.
The church of St. John the Evangelist in Bury sits on a small lump of raised ground overlooking the river and has a very attractive feel. Dorset House school, alongside the church, means the quiet of the village is often punctuated by the lovely sound of children playing.
Bury hotels, B and B, camping and holiday lets
Other hotels and B &B near Bury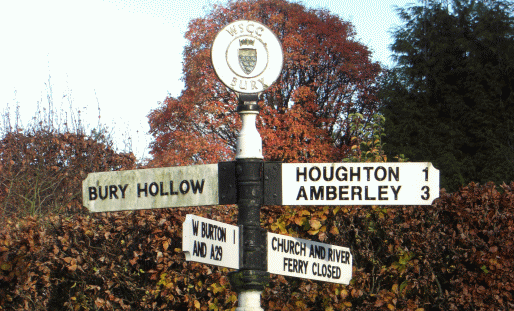 BURY INFORMATION
Bury Church's official website, with details of services and other church events.
PLACES NEAR BURY
Amberley
|
Arundel
|
Bignor
|
Duncton
|
Fittleworth
|
Pulborough
|
Slindon
|
Storrington
|
Stopham
|
West Chiltington
|
Map of the Bury part of the Arun Valley

PLACES NEARBY
WEST SUSSEX TOWNS
SUSSEX INFO