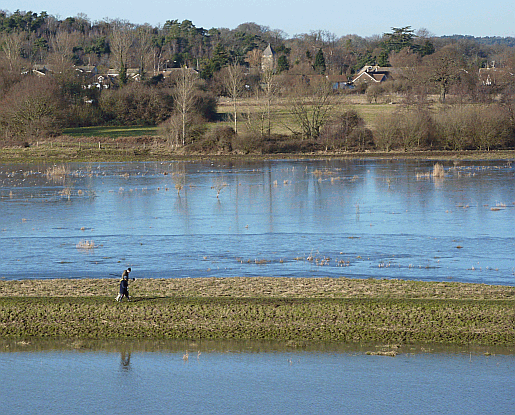 Coldwaltham
Coldwaltham is a bit of a mixture of a village. On the one hand Coldwaltham is dominated by the A29, with the village strung out along the modern road which mirrors the route of the former
Roman Road of Stane Street
.
Stane Street follows an arrow straight path a few hundred yards north west of the modern main road and the remains of a Roman Station have been unearthed near the junction of the River Rother and the River Arun just north of Coldwaltham.
The dominance of the road makes it possible to pass through Coldwaltham without noticing anything much.
But Coldwaltham is definitely worth a closer look.
Like it's near neighbour Watersfield, the dominant feature of the village is the valley of the River Arun and Waltham Brooks which are beautiful in summer and strikingly flooded in winter.
Coldwaltham is perched on the nearest bit of high land to the western edge of the flood plain - safe from the Arun's treacherous flood waters. It's a special place and the views across the valley to the scarp slope of the South Downs above Rackham and continuing on past Chanctonbury Ring and on to East Sussex are wonderful.
There was probably a Saxon Church on the site of St Giles Church at some point, but the earliest parts of the Coldwaltham's current church date from the 13th century. A lot of the church was rebuilt by the Victorians under the enthusiastic eye of the Reverend James Sandham (after whom the village hall is named the Sandham Memorial Hall). As a result the church doesn't have quite the same charm as some of the very old and very small West Sussex churches, but it's worth a visit nonetheless.
The churchyard at Coldwaltham contains a slightly controversial yew tree - slightly controversial because on occasions when experts have suggested the tree may not be quite as old as people believed it to be there has sometimes been a bit of a backlash from the villagers. Part of the reason for this is that the ancient tree is sometimes cited as evidence for a much older church on the current site. Another may be that some people claim that the tree as one of the oldest in the country - either way, it's a magnificent being. It certainly looks pretty ancient.
There are other interesting places close to Coldwaltham too. Hardham Priory is a mile or so up the road and the lovely Greatham Bridge has to be crossed to pass across the Wildbrooks.
Champs Hill Garden is a well liked private garden which can be visited at times - it's noted for its good selection of sand loving plants like rhododendrons. Champs Hill has also become an unlikely venue for high quality classical music concerts.
WEST SUSSEX TOWNS
STAY INFORMED
PLACES NEARBY
COLDWALTHAM HOTELS