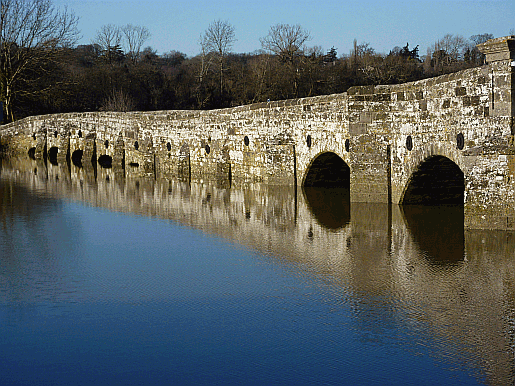 Greatham Bridge - a fine historic monument and the site of a civil war battle...although it was only a small one
The River Arun and the West Sussex Rother which flows into it are blessed with some of the finest
medieval bridges
around.
Greatham Bridge is no exception - although the easternmost section of it was replaced with a less attractive iron span in the nineteenth century, most of the length of the bridge remains seems to look exactly as it was seven centuries ago.
But appearances can be deceptive.
The bridge was commissioned by Sir Henry Tregoz, whose family held the Manor of Greatham in the 13th century. Greatham Bridge was probably built towards the end of that century, with 1294 being the most likely date for its completion.
The bridge was reconstructed in the 1790s and fifty years later timber sections were introduced for a short time.
In 2003 the bridge was fortunate to benefit from very sympathetic restoration work and it is now is a very special feature of this lovely part of the Arun Valley.
Greatham Bridge is now a scheduled Historic Monument and hopefully its future is now safe.
Greatham Bridge and The Civil War
Greatham Bridge was an important strategic point in the
civil war
- as were the bridging points of the Arun downstream at Arundel and Houghton Bridge, where the
future King Charles II
made his nervous crossing of the Arun on his way to France and safety.
Rivers were a big deal in West Sussex - particularly north of the Downs on the heavy clay soil of the Weald and control of river crossings meant control over traffic wanting to pass over and along each of the county's main rivers.
Fighting broke out when a group of local Royalists tried to prevent General Waller's army from claiming the bridge.
Some of the dead from that clash were hurriedly buried in the village churchyard at Greatham - although their bodies weren't discovered until the 1950s when the church vestry collapsed.
Places to stay near Greatham Bridge
Other hotels and B &B near Greatham
WEST SUSSEX TOWNS
STAY INFORMED

PLACES NEARBY
HOTELS NEARBY