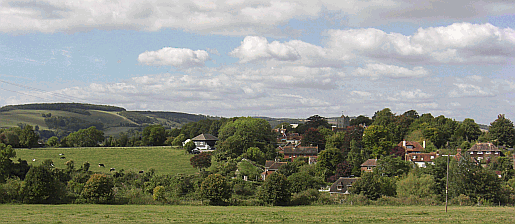 Burpham
Burpham
is one of several really special villages in the Arun Valley.
The Arun often bursts its banks in the winter and so Burpham is built on the side of Perry Hill just out of reach of the flood plain.
The views this gives are fantastic - looking to the south west towards Arundel Castle and then the lovely town of Arundel itself clinging to the hillsides on the other side of the valley. To the north-west the vista looks towards the gap in the Downs where the Arun carves its way from the Sussex Weald to the sea.
The village, like its close neighbour Wepham, has a well-to-do-air with some lovely houses. The George and Dragon pub is extremely good and is well known for its food.
Burpham is at the end of a long road which clings to the eastern side of the River Arun Valley and then stops - meaning there is no through traffic. This makes Burpham the gateway to some really enjoyable walking round some of the more remote countryside in south-east England.
In winter there's a lonely but very good walk up to the South Downs Way from Peppering High Barn or, in reverse, a really fast long, mountain bike descent along the bridleway if you've earned it by climbing up to the top in the first place!
One unusual feature of the village is the large Saxon burgh on which part of the village still stands. This fortification is in the form of a figure of eight. You get the best impression of the size of the earthworks from a kilometer or so south of the village.
When the Arun was a major highway, the burgh would have been an important strategic point to command, only a few miles inland from the sea and with a great view along the valley as it opened itself up to the coastal plain to the south. It is thought that Burpham was one of the many fortified villages built during the reign of Alfred the Great to help repel Vikings who visited Sussex for booty and bloodlust.
There are plenty of even more ancient earthworks - tumuli and flint mines - nearby and it's easy to imagine Burpham being a much more important place for much of its history than it is now.
The best places to stay near Burpham
Other hotels and B &B near Burpham

PLACES NEARBY
HOTELS NEARBY