Clapham, West Sussex
The mystery of Clapham Woods
Clapham is notorious for a collection of events which are sometimes described as the
Clapham Woods mystery
.
Since the 1960s there have been four human deaths, several dog fatalities, UFO sightings, abnormal radiation readings and persistent reports of strange goings on in the woods.
Add to this well developed but unprovable allegations that the site was used by a Satanic cult for rituals including sacrifice and a picture emerges of a place you might not choose to get left alone on a dark night.
Don't be scared though. Some of the supporters of the cult theory believe that the devil worshippers moved on after the 1987 hurricane smashed its way through Clapham Woods. Others are sure that the woods are still serving as a conduit of mysterious forces.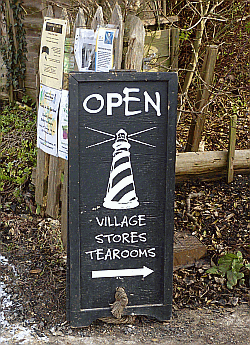 As well as the importance and interest of these events, the development of the story is interesting as a form of modern Sussex folklore in the making. It's a sign that we don't just lose the stories of our ancestors. Sometimes we create new ones which replace some of the older folklore.
Blackpatch Hill
The wonderful sweep of the Downs towards
Blackpatch Hill
is one of the great sights for the motorist in Sussex. The A280 cuts across from the A27 to the A24 and the bare countryside inside the massive curve of the hillside road is always impressive.
It seems increasingly likely that Blackpatch Hill contains the remains of one of the most important stone age settlements found so far in southern England.
The area to the north-west of Clapham is one of the largest in West Sussex without any public roads, largely due to the steadfast efforts of successive Dukes of Norfolk, who owned the land. The Angmering Park Estate, which was created after the death of the 16th Duke in 1975 will surely keep things that way for many years to come.
Clapham Church
St Mary's Church, Clapham
lies at the northern edge of village in a slightly isolated location on the edge of Clapham Wood, perhaps serving as a sentinel against the evil which may (or may not) lie within the woods beyond, depending on your point of view. Some of the reported strange events have taken place close by the village church.
The church is mostly a thirteenth century construction, although a stone church was first built here by the Normans.
Inside Clapham Church there are some interesting monuments to the perennially prominent Shelley family, most notably large brass effigies of John Shelley and his wife which date from 1526.
PLACES NEAR CLAPHAM
WEST SUSSEX TOWNS