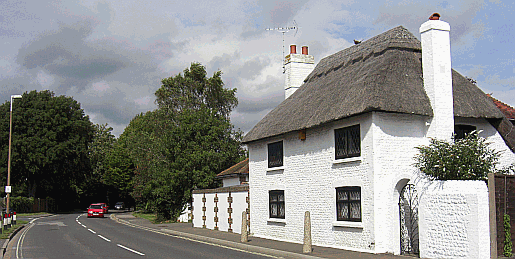 Barnham
Unfairly, for most people passing through
Barnham
on the Chichester to Brighton railway line Barnham means little more than "
change at Barnham for Bognor Regis
".
And as a Sussex railway town, Barnham also attracts more than its fair share of bad publicity as a result of occasional punch up near the railway station.
However, Barnham has an interesting history, including a spell not so very long ago, when it had a thriving fishing industry on a creek of the River Arun. Sadly, this is no more.
Barnham today takes in several acres of glass houses, taking advantage of the mild and sunny climate south of the Downs in this part of West Sussex.
Barnham church
Barnham village church is an attractive Norman affair, which has now become somewhat separated from the main part of the village. The importance of the railway to Barnham meant that traffic grew considerably in late Victorian times and the 20th century. All the new houses which were built in that period and in the 20th century have helped to shift the focus of the village away from the ancient and attractive church of St. Mary.
Other interesting buildings in Barnham
Perhaps the most recognizable icon of Barnham is its windmill. Another important building around the village is Barnham Court. Although Barnham Court is not open to public, it is a high quality 17th century mansion nonetheless.
Find accommodation near Barnham
Other hotels and B &B near Barnham
BARNHAM INFORMATION
Barnham is part of the Parish of Aldingbourne, Barnham and Eastergate and the village church is St Mary the Virgin, Barnham. Barnham Church is mainly Norman, with some substantial rebuilding in the 13th century, although traces of an even older Saxon church on the same site have been found.
The village's ambitious plans for a new village hall.
Barnham Primary School, Elm Grove, Barnham, West Sussex PO22 0HW
Barnham Parish Council has a nice simple site, which includes an interesting history of Barnham.
Barnham F.C. play in the West Sussex Football League and run three mens teams at the moment.
Map of the Barnham area
PLACES NEAR BARNHAM
PLACES TO STAY NEAR BARNHAM
BARNHAM HOUSE TO LET
WEST SUSSEX TOWNS
SUSSEX INFO