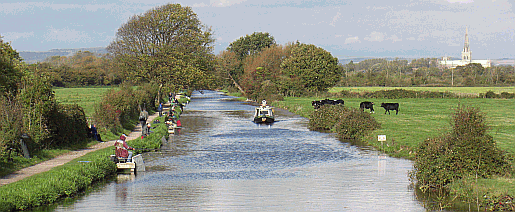 Hunston
Hunston is a small village a mile or so South of Chichester, lying on the route of Chichester Canal at the northern end of the Manhood Peninsula.
St Leodegar's Church in Hunston has a beautiful and peaceful setting and definitely merits a short detour. The church itself is mainly a Victorian rebuild.
The annual Hunston Fireworks and Funfair is one of the more popular firework displays in this part of West Sussex and is worth checking out each November.
HUNSTON INFORMATION
The Chichester Ship Canal Society, who look after the canal have a good clear site which tells you about current projects underway on the Chichester Canal, which flows straight to the sea other that its charming and abrupt dog-leg right turn at Hunston.
The canal website also gives details of barge trips you can take along the canal, including Jazz Cruises in the summer as part of Chichester Jazz in the City week. The cruises help raise money for the restoration and preservation of the canal and its towpath.
Walking to Hunston from Chichester Canal Basin is easy and enjoyable - the walk is less than 2 miles and, obviously totally flat. The Canal Basin itself is close to the train and bus stations in Chichester and this is a pleasant way to spend an hour or two.
Hunston is a temporary home for many of the
homeless people
who visit Chichester. The night refuge has emergency accommodation for up to 10 men and 2 women and provides food and cleaning facilities to help ease the harshness and danger of the homeless life.
St Joseph's night refuge is funded from a variety of sources, but private donations play an important part in helping to keep this invaluable service going.
St Joseph's Night Refuge, Hunston Road, Chichester, PO20 1NP.
Hunston Parish Council website.
The site contains details of several Hunston village groups, including St Leodegar's Church, the Hunston Community Club, Hunston Womens Institute and the village short mat bowls club plus Parish Council affairs and Hunston Village Hall booking information.
PLACES NEAR HUNSTON
Aldingbourne
Boxgrove
Birdham
Bosham
Chidham
Chichester
Chilgrove
Fishbourne
Itchenor
Kingley Vale
Lavant
Singleton
West Dean
WEST SUSSEX TOWNS
STAY INFORMED