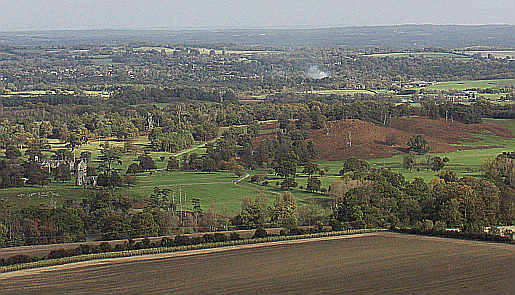 The South Downs Way
Springhead Hill
At Springhead Hill there's a car park next to the South Downs Way. The car park can be reached from the B2139 by following a rough old road up the hill from
Springhead Farm
.
One of the most prominent features of the view from the South Downs Way on Rackham Hill is the majestic park of Parham House - one of the finest stately homes in West Sussex.
From a different perspective altogether, this section of the South Downs Way forms the backdrop to one of the more impressive landscape views in Sussex. If you're ever anywhere south of the beautiful hillside town of Arundel, a look to the north unfurls a wonderful sight, with this section of the South Downs Way the most distant feature of the vista.
The relatively bare hillsides of Camp Hill and Wepham Down give an uninterrupted view of the line of the top of the South Downs Way as it passes successively from Amberley Mount to Rackham Hill and on to Springhead Hill.
With Arundel clinging to its hillside in the foreground and the Arun Valley snaking away into its gap in the Downs, it's a lovely sight.
Below Kithurst Hill on the way down to Grey Friars Farm there lie the remains of a Canadian tank left behind by 14th Canadian Army Tank Battalion in the Second World War.
SOUTH DOWNS WAY - WHERE TO STAY
SOUTH DOWNS WAY - STEP BY STEP
SOUTH DOWNS WAY INFORMATION
WEST SUSSEX TOWNS
STAY INFORMED