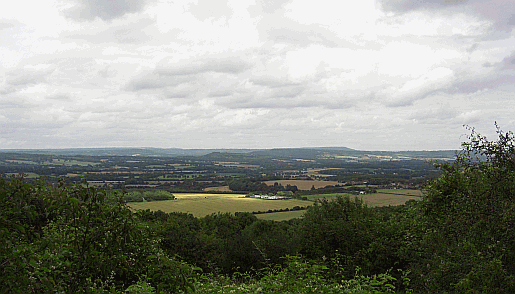 The South Downs Way
Tower Hill and Harting
Although a fair amount of this part of the South Downs Way is wooded or the way is set back from the top the Downs, this is the one of the first sections of the South Downs Way (heading west to east) which starts to offer far ranging views of the countryside.
It's very exciting, although nothing compared to what it to come on the rest of the journey where the whole world seems to open up before you.
As the South Downs Way approaches Harting Down it skirts to edge of the great Uppark Estate - the domain of the Fetherstonhaughs and home to a hundred stories of the rich and famous.
Uppark was also the scene of a terrifically destructive fire in 1989 which gave rise to one of the most remarkable and painstaking restorations of any stately home ever undertaken.
As you tiptoe through the slightly slippery path which lips around Tower Hill you may have mixed emotions:
While you may take comfort from the knowledge that the wood through which you are passing is called The Bosom you might simultaneously be irritated that the interesting Tower folly on the hill above you cannot be approached because it is on private property and there's no footpath offering a view of it within three hundred metres.
The Tower was built by the Fetherstonhaughs as a kind of summer house for partying - a pastime at which the wonderfully eccentric Sir Harry Fetherstonhaugh excelled.
You are now about to reach the first major milestone on your route - Harting Down Nature Reserve - and the end of this section of the South Downs Way.
SOUTH DOWNS WAY - WHERE TO STAY
SUSSEX INFO
SOUTH DOWNS WAY - STEP BY STEP
SOUTH DOWNS WAY INFORMATION
WEST SUSSEX TOWNS
STAY INFORMED