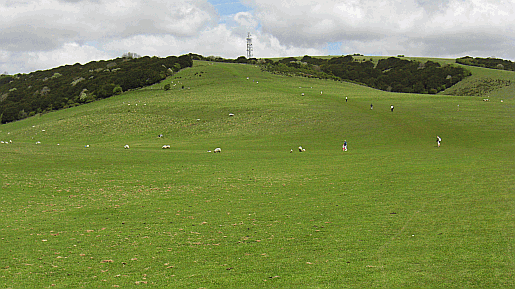 The South Downs Way
leaving Butser Hill
An almost endless slope runs down from Butser Hill towards marks the start of the journey along the South Downs Way.
What better way to start a long journey with a gravity assisted light footed descent?
This is a fantastic run on a mountain bike, although there is a small gate that needs to be negotiated half way down. If you're lucky some kind soul might be on hand to open it for you so you maintain your momentum as you swoop down the hill on the smooth downland grass.
At the bottom of the hill there's a tunnel which goes underneath the A3, making a dice with death and the busy Portsmouth to London traffic a thing of the past.
If you're nearing the end of your journey from West Sussex then this can seem a pretty daunting climb though.
At 270 metres, or 889 feet, Butser Hill is as high as the South Downs get.
SOUTH DOWNS WAY - WHERE TO STAY
SOUTH DOWNS WAY - STEP BY STEP
SOUTH DOWNS WAY INFORMATION
SUSSEX INFO