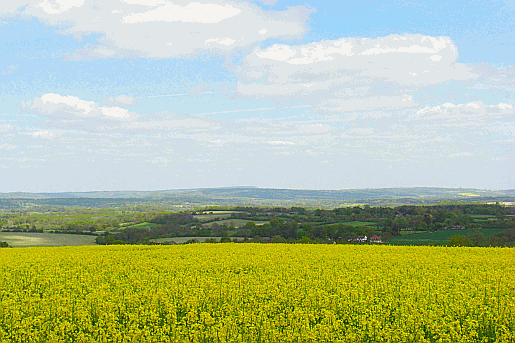 The South Downs Way
Main Down and Torberry Hill
Once you are inside the West Sussex boundaries, the South Downs Way starts a long steady climb.
Over the next five miles of the route, the South Downs Way climbs from 138 metres at Sunwood Farm up to slightly over 200 metres at Harting Down and a mighty 242 metres at the viewpoint at Beacon Hill.
There are few really steep sections, until Beacon Hill is reached - and even then there's a long way round which is easier on the ankles.
In the meantime there's a pleasant section of the South Downs Way to enjoy on the way towards South Harting.
Just to the north of Foxcombe Cottages the South Downs Way intersects with that even longer Sussex footpath - the Sussex Border Path, heading north towards the interesting Iron Age camp of Torberry Hill and south across really remote country in the direction of the site of the fascinating, ruined and now lost mansion of Ladyholt.
How do you lose a mansion you might ask?
In the same way that you lose a village I suppose - you just abandon it - a choice perhaps only available to the fabulously rich in the case of Ladyholt.
SOUTH DOWNS WAY - WHERE TO STAY
SUSSEX INFO
SOUTH DOWNS WAY - STEP BY STEP
SOUTH DOWNS WAY INFORMATION
WEST SUSSEX TOWNS
STAY INFORMED