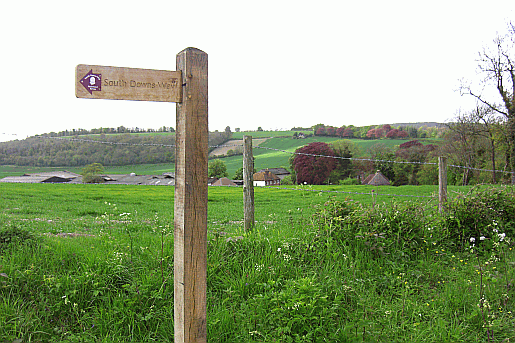 The South Downs Way
into West Sussex
The next farm along the South Downs Way is the attractively named
Sunwood Farm
.
A hundred or so metres after the farm it's time to get your passports out - it's the Sussex Border - Checkpoint Chalky perhaps.
There's no great fanfare as the border is crossed, just a simple signpost pointing towards Sussex (and only Sussex).
In its modern incarnation the South Downs Way originally stopped here.
The South Downs Way was opened on 15th July 1972 - an anniversary for which we all have reason to be grateful.
The Hampshire section of the South Downs Way opened in 1991.
Obviously the Way itself has a history which dates back several thousand years before this, but the South Down Way is now looked after as a modern leisure amenity.
SOUTH DOWNS WAY - WHERE TO STAY
SUSSEX INFO
SOUTH DOWNS WAY - STEP BY STEP
SOUTH DOWNS WAY INFORMATION
WEST SUSSEX TOWNS
STAY INFORMED