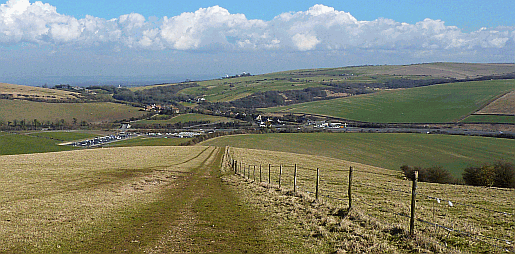 The South Downs Way
Newtimber Hill towards Pyecombe
As you walk down Newtimber Hill towards Pyecombe and
Haresdean
the modern world suddenly smacks you right in the face.
The first thing you notice is the noise. Like it or nor you are going to have to put up with this for the next couple of miles. It's as if the timelessness of the Sussex countryside is being temporarily interrupted by the brashness of twenty first century man.
The BP petrol station, the all weather jumping ground of Brendon Stud, the farm buildings and above all the non stop traffic racing at high speed from London to Brighton and all points between grate after an hour or two's walking on the South Downs.
If you can isolate your senses from this affront to them after so many miles of beautiful countryside there are still plenty of rewards to be had in this section of the South Downs Way.
On the descent into Pyecombe, look to the south where you will see an extraordinary hillside of terraces cut into the north side of a periglacial combe.
The countryside beyond is massive.
Rather than a succession of smaller hills such as you have just enjoyed in the section from Beeding to Devil's Dyke, the countryside sweeps towards Ditchling Beacon 7 kilometres to the east in a wavy roll, not quite a plain, not quite a slope.
It's as if the entire hillside has been made out of a flexible substance which has been shaken by giant unseen hands.
This view contains the remains of the lost Saxon and Norman village of Pangdean by the way.
SOUTH DOWNS WAY - WHERE TO STAY
SOUTH DOWNS WAY - STEP BY STEP
SOUTH DOWNS WAY INFORMATION
WEST SUSSEX TOWNS
STAY INFORMED