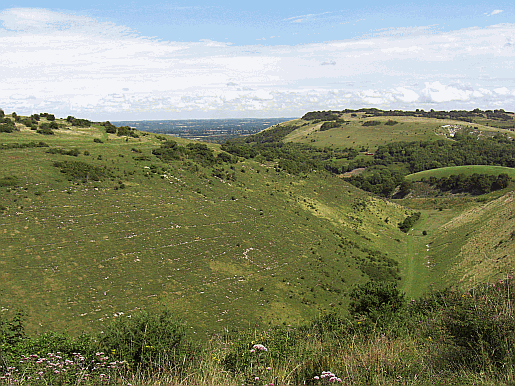 The South Downs Way
the Devil's Dyke itself
As you follow the South Downs Way past the Devil's Dyke a minor road shadows your route round the southern edge of the
Devil's Dyke Estate
.
There's a small car park here and as you approach it, as well as enjoying the sights of the chalky face of Newtimber Hill to the north ahead, you see the next part of the journey - the long straight climb up West Hill, over which lies Pyecombe village.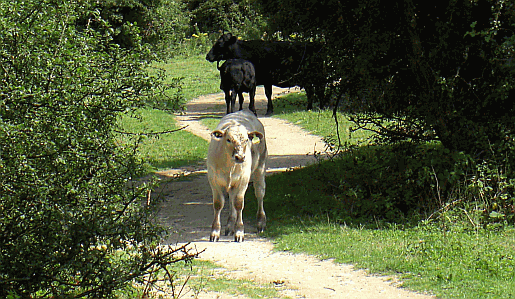 At the car park a glance to the north shows that the land has fallen away as the Devil's Dyke itself turns a dog leg exposing an wonderful view of the village of Poynings, with it's church prominent in the foreground. Behind Poynings, the Weald opens up for mile upon mile. If you are lucky you can see all the way to Surrey.
Continue past the car park as the land falls away.
This is one of the parts of the South Downs where, having done so much work to climb up to the top and knowing that there is higher ground ahead of you, you are reluctant to give up the gains you have made by dropping down at all, let alone right down into the Saddlescombe Valley, through which the road which you can probably already hear passes.
The South Downs Way passes the flat top of a reservoir and catch a first glimpse of Saddlescome itself, a tiny hamlet so small it's almost obliterated by the other features on the Ordnance Survey Map.
But Saddlescombe Farm is an important place for walkers on the South Downs Way because it provides one of the best opportunities for a decent meal without having to drop down into the one of the villages below.
SOUTH DOWNS WAY - WHERE TO STAY
SOUTH DOWNS WAY - STEP BY STEP
SOUTH DOWNS WAY INFORMATION
WEST SUSSEX TOWNS
STAY INFORMED
SUSSEX INFO