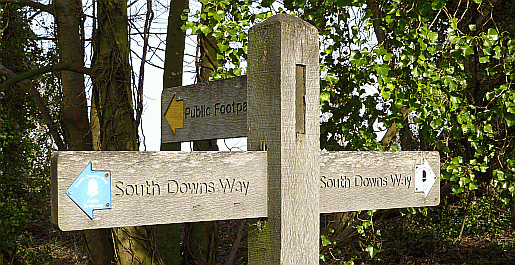 The South Downs Way
Washington and the A24
The South Downs Way descends into a dry valley which lies between
Findon
and
the village of Washington
,which the writer Belloc described as a "holy and secluded" village, partly one suspects, because he enjoyed the beer at the Frankland Arms in Washington so much.
Before you drop down into the valley you have to make a decision - there's a choice of routes.
Crossing the A24 can be a bit dicey at times. There's a central reservation which makes the crossing a little safer, but look out for fast moving traffic.
The authentic South Downs Way Route, which takes you down Highden Hill, past the woodlands of Biggen Holt and on to Parkfield Farm, may allow you to take a drink of water from the tap alongside the Way. But it may not be your cup of tea.
Happily, if you don't fancy the idea of dodging the traffic, the South Downs Way has an alternative route at Washington.
You depart from the main South Downs Way route right up on the top of Barnsfarm Hill.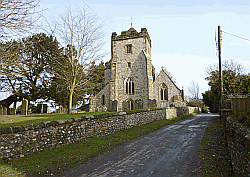 From this point, 200 metres above sea level, you cut down the side of the hill and a steep slope into a small hamlet called Rowdell.
From Rowdell you continue past Home Farm Cottages to make use of the concrete bridge which crosses the A24. This enters the village of Washington right by St Mary's Church.
Once you have passed the church there is a pleasant walk of about a kilometre towards Elbourne House, where the main South Downs Way route can be rejoined.
Take a deep breath.
There's a steep climb ahead. Mysterious Chanctonbury Hill and its famous ring of trees lies dead ahead.
SOUTH DOWNS WAY - WHERE TO STAY
SOUTH DOWNS WAY - STEP BY STEP
SOUTH DOWNS WAY INFORMATION
WEST SUSSEX TOWNS
STAY INFORMED
SUSSEX INFO